Kenmore-Town of Tonawanda UFSD
Providing our students with the supports, tools, and diverse opportunities needed to meet the challenges of an ever-changing world
Return to Headlines
Kenmore East Choir Students Participate in "Sing the World"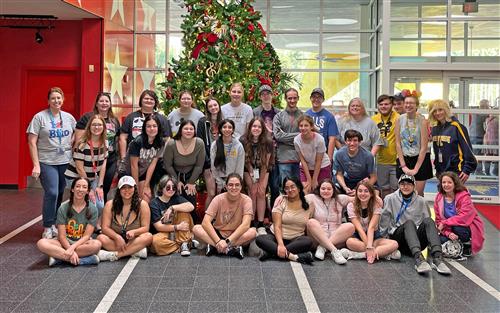 December brought an incredible opportunity for some of our Kenmore East students as they traveled to Walt Disney World in Orlando, Florida to take part in an all-new massed choir performance called "Sing the World". The event was held from December 10-13 and is described as a musical journey that celebrates different cultures through songs of inspiration, hope, and respect.
"It was so amazing to perform with so many other talented musicians in a new space," said junior Sriya Natarajan. "We got to bond with each other in a new atmosphere and we got to make new friends."
"It was my first time going to Disney and doing it with friends made it an awesome experience," added senior Amber Morello. "We got to meet people from different states and came together to sing these amazing songs."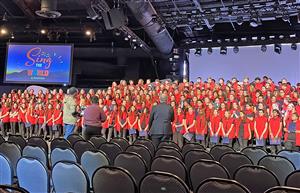 The performance included more than 200 students from all over the country, including 23 from Kenmore East. They sang eight Disney songs and were joined by celebrity conductor Dr. Jeffery Redding and narrator Jordan Fisher. Students also took part in a morning workshop with Fisher and Michael Lee Brown where they learned the power of performance.
"This was my first time traveling to Disney and it was a blast," senior Cacey Barraclough said. "It was amazing to learn from two Broadway performers about technique and a lot of specific aspects of a musical performance."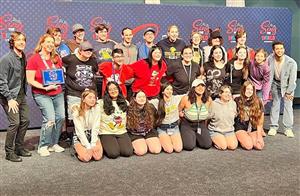 While the trip focused on performing, the students were also able to have a little bit of fun and explored Disney's parks, including Magic Kingdom, Hollywood Studios, and Epcot.
"We really got to go outside our comfort zones and spread our wings," senior Myilah Baroniecki said. "I was a whole different person on this trip. I have never felt so happy and positive in my life. I loved this experience and wouldn't have it any other way!"
The school's choir department traveled to Disney back in 2014, 2016, and 2018 for the "Candlelight Processional", which is an annual event held from Thanksgiving through New Years. The event hasn't accepted out of state choirs since 2020, which is why the department took advantage of this new opportunity through the WorldStrides organization.
Connect With Ken-Ton Schools