Kenmore-Town of Tonawanda UFSD
Providing our students with the supports, tools, and diverse opportunities needed to meet the challenges of an ever-changing world
Return to Headlines
Kenmore East's Phil Aguglia Named Semifinalist for Music Educator Award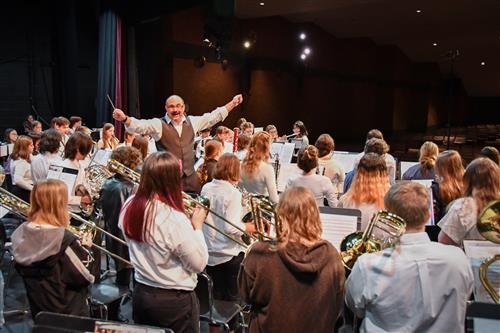 Kenmore East band director Phil Aguglia is one of 25 music teachers in the U.S. to be named a semifinalist for the 2023 Music Educator Award. The award, presented by the Recording Academy and GRAMMY Museum, recognizes current educators who are committed to making a significant contribution to the music education field.
The field of semifinalists, from more than 1,200 initial nominations, come from 25 cities across 18 states. Aguglia is just one of three from the state of New York and the only one from Western New York to be honored.
Aguglia began teaching at Kenmore East High School in 2002. He is part of a district-wide music department that's been designated as a Best Community for Music Education by the National Association of Music Merchants Foundation for 12 straight years. Throughout his career, Aguglia has been involved in dozens of collaborations, has received 30 nominations or awards for excellence in teaching (including a nomination for People Magazine's Teacher of the Year in 2012), and has hosted more than 100 guest artists.
In his spare time, Aguglia is the owner of PaGu Batons which are considered to be the preferred batons of many of the world's most prestigious conductors. His batons were used in the 2020 Oscars.
Throughout the year, Mr. Aguglia facilitates countless opportunities for his students to perform and enrich Kenmore East and the larger Ken-Ton community through their music. He has organized multiple band trips to New Orleans, their first of which received nationwide attention as they assisted with Hurricane Katrina relief efforts. During the COVID-19 pandemic, he planned many creative ways to continue his students' progress including virtual collaborations and weekly concerts outside his home.
Additionally, Mr. Aguglia regularly facilitates visits and guest artist programs with prominent musicians and composers from across the country. He has also initiated many different collaborations with other high schools in WNY to promote music education and introduce students to new learning opportunities.
The field will be narrowed to 10 finalists in December with the winner receiving a $10,000 honorarium and matching grant for their school's music program. The other nine finalists will receive $1,000 while the remaining 15 semifinalists will receive $500.
Connect With Ken-Ton Schools