Kenmore-Town of Tonawanda UFSD
Providing our students with the supports, tools, and diverse opportunities needed to meet the challenges of an ever-changing world
Return to Headlines
Y'all Come rehearsal celebrating another year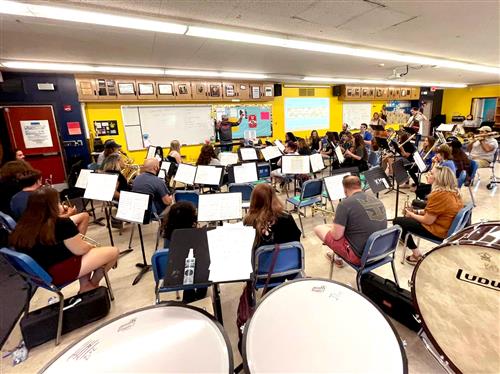 Take a drive by Kenmore East High School and you may notice a sign in one of the windows that reads "Family." That sign hangs on the window of the high school band room and holds big meaning for long-time conductor Phil Aguglia.
"Every Christmas my dad, my son, and I will play songs together while the other members of our family will beat on tambourines," Aguglia said. "Music making has always been in my blood and I always want it to be a family thing."
Aguglia has always been a music maker. Since coming to the Kenmore-Town of Tonawanda School District in 2002, he's shared that love with thousands of students.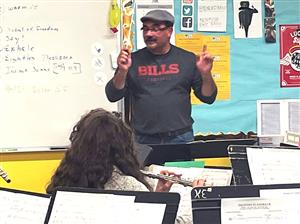 "Music is a language, a history, and an art form," he said. "When you learn it, you're learning that language. You can't have that conversation in everyday life unless you're a professional musician."
As a nominee for over two dozen awards, which include being a quarterfinalist for the 2022 Music Educator Award presented by the Recording Academy and GRAMMY Museum, Aguglia's passion for music runs deep.
It's why this summer, he's continuing a tradition which he calls Y'all Come. It's an event that takes place every summer, reuniting musicians and giving generations the opportunity to play together.
"One year we had a grandson, a father, and a grandfather all in one group. It was such a cool thing to see them all playing trumpet together," Aguglia recalled. "How often does that ever happen? Where you get to play together in the same ensemble?"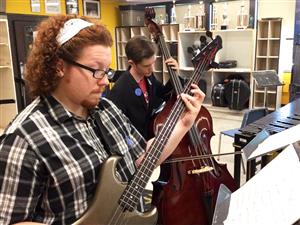 The idea to start Y'all Come happened several years ago during one of Aguglia's community groups. One of his musicians was a former member of the Navy band and hadn't touched a saxophone in more than 30 years. The musician rediscovered his love for music and moved to Florida shortly after. Years later, he called Aguglia to thank him for saving his life and his marriage.
"He told me that he and his wife, who picked up the piano, were playing music together around 180 days a year. Their new life together involved making music," he said. "It ignited the flame and I thought, where can we take it from here?"
Aguglia can't remember the exact year Y'all Come started but guesses it's been going on for around seven years. It's a one-time rehearsal where musicians sign up, show up, and make music together. This year's event takes place on July 20th at 6:30 p.m. inside the Kenmore East High School Band Room. There are no practices beforehand and that's what makes this night pretty special.
"It puts everybody on the same playing field," Aguglia said. "Everybody shows up and hopefully we do our music education part right and they know how to read, and when we get together they can read the parts and play."
Anywhere from 50-70 musicians take part in the Y'all Come rehearsal but this year, they're getting an extra special bonus. Aguglia and his group have been invited to perform at the Town of Tonawanda 75th Anniversary celebration on August 6th where they'll play music together for two hours.
"Kenmore East has always done a good job of reaching into the community," Aguglia said. "If we can do it, we'll try. I like that the community can turn to me and say 'Hey Phil we need something, can you help?' and I can say yes."
The Y'all Come rehearsal is open to any past and current musicians (you don't have to be a Kenmore East alumni). Those interested in signing up can do so right up until the day of the event. You can also check out their Facebook event page.
Connect With Ken-Ton Schools