Kenmore-Town of Tonawanda UFSD
Providing our students with the supports, tools, and diverse opportunities needed to meet the challenges of an ever-changing world
Community Connection Award Nominations
Superintendent & Administration
Return to Headlines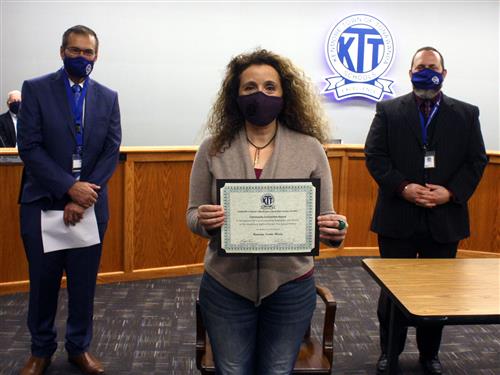 Dr. Santa Maria is presented with the Community Connection Award by Board of Education President Matthew Chimera, left, and Superintendent Sabatino Cimato.
Dr. Ramona Santa Maria is a professor in the Computer Information Systems Department at Buffalo State College who has been actively involved in the development of our high school Career Academies and fostering a college-bound culture. Dr. Santa Maria has won several awards for excellence in teaching, and she has presented research at the regional and national level.
Here in Ken-Ton, Dr. Santa Maria was instrumental in developing our high school Career Academies and making them such a success. She has helped bridge the connection between high school and college for countless students. She has arranged field trips to Buffalo State college for both of our high schools. She has come into classrooms to share her knowledge of computers and programming. Dr. Santa Maria has also been the key connection for articulation agreements with Buffalo State College for students in our computer courses, and she helped us connect to the Business Department to articulate our Virtual Enterprise Class. In the words of Nancy Prey, Career Academies Coordinator, "Dr. Santa Maria is passionate about helping students, and creating exceptional experiences for our students."
We are very pleased to present Dr. Santa Maria with the very first Community Connection Award!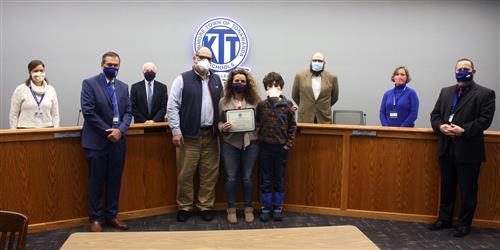 Dr. Santa Maria with her family and the Board of Education.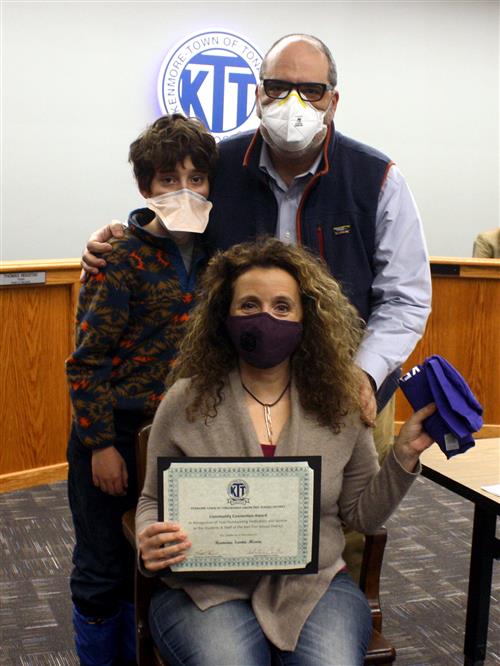 Connect With Ken-Ton Schools