Kenmore-Town of Tonawanda UFSD
Providing our students with the supports, tools, and diverse opportunities needed to meet the challenges of an ever-changing world
Return to Headlines
Staff Collects Nearly 1 Ton of Donations for Hurricane-Ravaged School District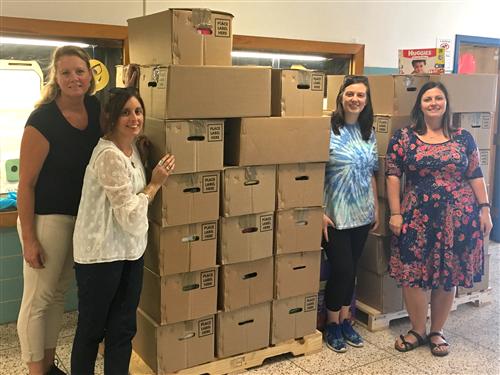 Through a staff-led effort, an impressive 1,868 pounds - just shy of a whole ton - of donations is on its way to a school district outside Houston that was devastated by Hurricane Harvey.
Leading the effort were Kenmore East High School teacher Kathryn Puglisi and District Mentor Jill Pickering with help from Wendy Breene from Kenmore West, April Owczarczak from Kenmore West, Jen Makin from Edison Elementary, and many other staff who helped coordinate the effort in individual buildings.
Staff, families and students throughout the district donated a wide variety of items, everything from personal care items and kitchen/cleaning supplies to school supplies and baby items. Enough money was raised to cover shipping costs as well. The donations are being sent to the Katy Independent School District just outside Houston, where Maurice Wolfe Elementary School is located.
Kenmore West High School alumna Brittany Schamerhorn teaches second grade at Maurice Wolfe Elementary School, which was directly in the path of Hurricane Harvey when it made landfall on Aug. 26. The community is still struggling to recover.
Brittany (Cowles) Schamerhorn was a proud 2008 graduate of Kenmore West before embarking on a career in teaching. She was a member of the former Kenmore West dance team which Puglisi coached, and she was also a student teacher at Kenmore West as well.
The school where she now teaches, Maurice Wolfe Elementary, is part of the Katy Independent School District outside Houston, and the storm left tremendous devastation in its wake. School buildings and surrounding neighborhoods were under five feet of water. Everything from school supplies in classrooms to basic necessities in homes throughout the community were lost.
When Puglisi and Pickering heard about what the community went through, they wanted to help. That's when they had the idea of having the Ken-Ton School District unofficially "adopting" the Katy ISD and generating donations.
They had no idea though that the effort would be as successful as it was with literally a ton of items donated to help the Katy ISD community.
Connect With Ken-Ton Schools