Kenmore-Town of Tonawanda UFSD
Providing our students with the supports, tools, and diverse opportunities needed to meet the challenges of an ever-changing world
Return to Headlines
Alumni Spotlight: Troy Caruana, Kenmore West High School Class of 2009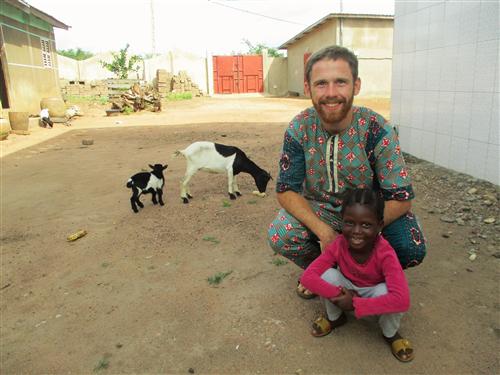 Alumni Spotlight:
Troy Caruana, Kenmore West High School Class of 2009
Kenmore West High School alumnus Troy Caruana is a very valuable asset to the people of Ouèssè, a densely populated rural village in sub-Saharan Africa.
Troy is a Peace Corps volunteer, and he teaches at a school where the only available classroom space is nothing more than tin roofs held up by branches. Classes are often cancelled when it rains. With 650 students sharing the same spaces, classes are also overcrowded, and some need to be scheduled late in the day. Many students, especially young women, face dangerous commutes home in the dark when class ends.
Troy is working to remedy this. As he finishes his second year as a Peace Corps volunteer in the Republic of Benin in West Africa, he is leading an effort to build new educational facilities in his village. The goal of Troy's project is to raise $13,000 to build three new concrete classrooms, which will have a tremendous impact upon the children of Ouèssè. Not only will students have access to much better classroom facilities, but all classes will take place during the day so that no one has to put themselves in danger in order to attend school.
You can learn more about this effort by visiting:
//donate.peacecorps.gov/donate/project/building-classes-building-equality
Through his work with the Peace Corps, Troy teaches three classes twice a week for students at the middle school level and runs an after-school English language program. He is also striving to expand educational opportunities for children in the village and promote gender equality throughout Benin.
Troy attended Lindbergh Elementary, Kenmore Middle School and Kenmore West High School, and it was at Kenmore West that his interest in helping others was sparked.
While a student at Kenmore West, Troy was captain of the Rugby Team and a varsity wrestler. He was also a member of what is now the Challenge/Interact Club, which has supported many different organizations and causes. One such project, part of the national "Purple Pinky Project," supports Rotary International's efforts to eradicate Polio worldwide. Another project Troy was involved with raised money to help children at an orphanage in Kenya called Crossroad Springs Institute.
"Our club corresponded with these students, which made our volunteer work personal and allowed us to see what our efforts helped accomplish," Troy said. "The cultural exchanges and positive work we did in this club inspired me to pursue the Peace Corps, where I could continue making an impact around the globe."
Troy's motivation to serve in the Peace Corps began here with his volunteer experience at Kenmore West. After he graduated in 2009, Troy began attending Buffalo State College where he majored in philosophy (honors) and French language and literature. During his college career, he became actively involved in the Buffalo State College Intercollegiate Ethics Bowl Team, which explored the complexities of ethical and moral dilemmas. This experience further strengthened his resolve to serve in the Peace Corps, which brought him to Benin.
Troy's background in French has helped him immensely in Benin, where French is the national language. Most Beninese speak one of 47 different native languages and begin learning French in primary school. Beginning his service in the Peace Corps with a fluency in French has allowed Troy to communicate with many different people in the village while also learning the local language.
Benin is a country of more than 10 million people to the west of Nigeria in sub-Saharan Africa. It covers a narrow strip of tropical savannah stretching approximately 350 miles between the Atlantic Ocean and the Niger River. Ouèssè is a densely populated village in central Benin approximately 150 miles from the coast. With dirt roads, most houses made out of clay, and only a single concrete water tower to service the area's 12 water pumps, Peace Corps volunteers like Troy are working to provide the people of Ouèssè with a better quality of life.
The Peace Corps is a government agency that focuses on promoting world peace and cultural awareness amongst Americans. Troy became a Peace Corps volunteer in June 2016. Not long after he was accepted into the Peace Corps, he received his assignment to work in Benin where he is now. He leads the Peace Corps Benin Gender Equality Committee, which helps other Peace Corps volunteers incorporate gender equity work into their own projects. The committee also coordinates several annual youth camps around the country to empower young female leaders and promote general equitable norms and practices.
In this way, Troy is making an impact on the lives of children and young women throughout Benin. But it is in Ouèssè where the impact of his work for gender equity and educational development is most apparent.
"I have really enjoyed the people, culture, and my time here in Benin and have found much fulfillment in my work as a Peace Corps volunteer," Troy said.
Ken-Ton is proud of our alumni! We want to highlight their achievements so please share information by emailing pfanelli@ktufsd.org.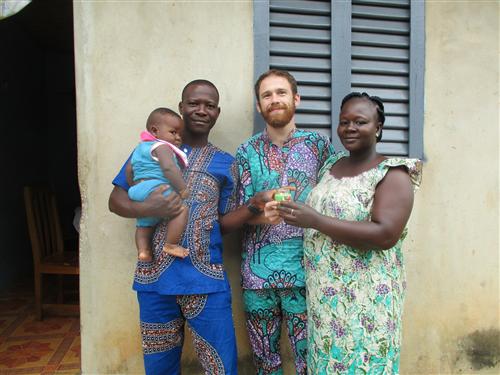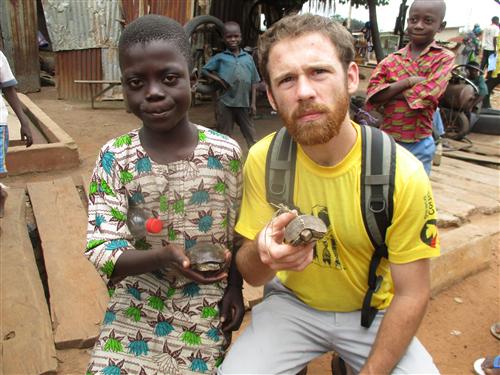 Connect With Ken-Ton Schools