Kenmore-Town of Tonawanda UFSD
Providing our students with the supports, tools, and diverse opportunities needed to meet the challenges of an ever-changing world
Return to Headlines
Kenmore East Join the Winners Effort Raises $2,500 for Kids Escaping Drugs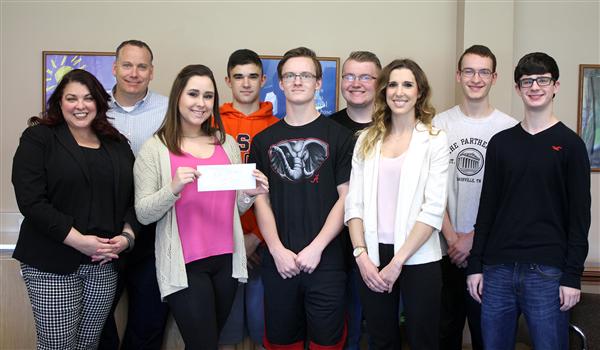 From left, Suzanne D'Amico, Kids Escaping Drugs director of development; Kenmore East High School science teacher Bob O'Connor; students Andrea DiChristopher, Ryan Moccio, Spencer Wrazen, and Brett Davis; Christina Kruzer, Kids Escaping Drugs special events coordinator; and students Will Crosby and Cameron Becigneul.
Kenmore East High School raised an impressive $2,500 for Kids Escaping Drugs through this year's Join the Winners effort, which culminated in a mammoth school-wide celebration that brought together hundreds of students in Grades 8-12 for a fun-filled night of friendly class competitions and activities.
The penultimate event of this year's Join the Winners effort – Kids Helping Kids – took place on a Friday evening in late March and ended up being one the biggest school events of the year. The vast majority of Kenmore East students – as many as 90 percent of the student body – took part in the event.
Kenmore East High School became a Gr. 8-12 building this year, and it was important to student organizers that all students in school have the opportunity to participate. Through meticulous planning by students, teachers and administrators, the Kenmore East gymnasium was prepared to safely include all five classes – seniors, juniors, sophomores, freshmen, and the first-ever class of eighth graders at Kenmore East. On one side of the gym sat the juniors and seniors; on the other side sat eighth-, ninth- and 10th-graders with additional risers set up to accommodate three sections instead of two.
Students at all five grade levels all wore special Join the Winners T-shirts with class-specific colors and themes. Activities included relay race competitions, minute-to-win-it challenges, an air band competition, and a school dance. Students and staff all agreed that, with the inclusion of eighth graders and the extraordinary support and energy among participants, this was possibly the most successful and enjoyable event of its kind to date.
Join the Winners is a school-wide initiative to help children and teenagers struggling with addiction. It's a homegrown Kenmore East initiative spearheaded by science teacher Bob O'Connor that has supported the Kids Escaping Drugs telethon to benefit the Western New York Renaissance Campus since 1994. The campaign culminates each year in Join the Winners Night, a fun-filled evening of activities and class competitions in the Kenmore East gymnasium.
"This is a favorite event of mine to run, not just because it is so much fun, but because it is so much more than just fun," O'Connor said. "It is an event that couldn't be run without the hard work of so many people. The students and teachers work together to be a part of something much bigger than themselves, in order to help those that may not be as fortunate as others. It also represents a night where groups of people that may not normally meet, get together to accomplish a goal in a relay race or activity, and learn to depend on others to accomplish a goal, while building school and class spirit."
On April 18, O'Connor and a group of students who helped spearhead the initiative presented a check to two representatives from Kids Escaping Drugs: Suzanne D'Amico, Kids Escaping Drugs director of development, and Christina Kruzer, special events coordinator.
Connect With Ken-Ton Schools