Kenmore-Town of Tonawanda UFSD
Providing our students with the supports, tools, and diverse opportunities needed to meet the challenges of an ever-changing world
Return to Headlines
Continuing Education Classes Provide New Opportunities for Non-English-Speaking Residents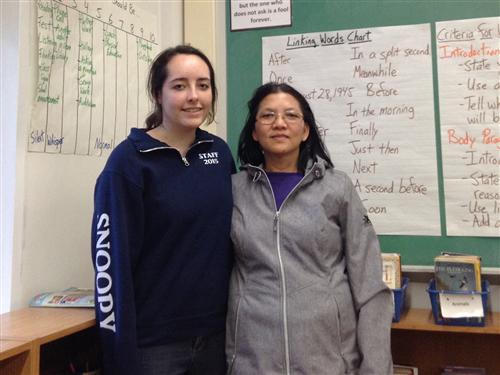 Volunteer Alaina Drzyzga, left, and student Neih Thuai. Neih has since passed her citizenship test.
The following article by Mary Dolan, high school equivalency teacher and outreach coordinator for the Ken-Ton School District Continuing Education Department, appeared in the April 5-April 18 edition of the Karibu News. Special thanks to the Karibu News for permission to reprint the article. For more information on the Karibu News, visit www.thekaribunews.com or email karibunews@gmail.com.
Ken-Ton ESL student Neith Thuai, a member of the Chin ethic group from Myanmar, knows first-hand that one of the best reasons to learn English as a Second Language is that it is a major step toward citizenship. She spent her time in a recent Ken-Ton ESL class reviewing questions likely to be on her upcoming oral interview, while nearby, a small group of students examined a copy of the Declaration of Independence.
As these students study the history and laws of the United States, national and civic pride grow, and they prepare to enjoy the responsibilities and benefits of citizenship.
The Kenmore-Town of Tonawanda School District attracts many young families with school-age children because of affordable area housing and the excellent schools themselves. More and more immigrants in Buffalo are moving north across Kenmore Avenue to make their homes in the Village of Kenmore and the Town of Tonawanda, the area referred to as "Ken-Ton." Now the same school system offers free classes to adults who want to learn English, and the classes are open to adult students who live in any school district.
In early 2017, the Ken-Ton Schools Continuing Education Department, in partnership with Erie Community College, hired qualified ESL instructors Emily Bradley and Greg Conley to lead the way in educating recent immigrants in reading, writing and speaking English. Bradley teaches youngsters in the Maryvale School District by day, then goes to Ken-Ton to teach adults twice a week. Conley, who works for the Buffalo Schools, teaches one night a week in Ken-Ton.
The ESL students hail from almost every continent. Middle Eastern countries such as Iraq, Iran, Afghanistan and Jordan are well-represented among the enrollees. Other students are from Myanmar, South Sudan, Kosovo, Ukraine and the Dominican Republic. To date, 33 students have enrolled in the classes. Many have children who attend Ken-Ton schools.
The Ken-Ton ESL classes receive funding through special sources, including state and federal grants. The classes are provided by the Continuing Education Department of the Kenmore-Town of Tonawanda Union Free School District, which is a department that is not a part of the property tax base which funds the schools for children. Therefore, students do not need to live in the Kenmore-Town of Tonawanda School District. Any adult over 18 who wants to attend these free classes, regardless of the district in which they reside, is welcome.
ESL Classes Benefit Students and Communities
Nancy Berger, Ed.M., M.S., the Director of the Continuing Education and Community Education Departments in the Ken-Ton Schools, asserts that the benefits of ESL classes extend to both the individual students and the local community: "English as a Second Language classes for adults not only benefit individual students by helping them become more self-sufficient in the community, but also benefit the community at large. New United States residents who speak English are better able to take an active part in community activities. And our area is so culturally enriched by the large influx of immigrants. We are pleased to be in a position to help students integrate into the Western New York family."
There are great benefits to local communities when new residents learn English. Language learners who become proficient do not require special support services, such as interpreters, and they can communicate easily in urgent situations with law enforcement and emergency medical personnel.
Additionally, new arrivals' individual opportunities increase as language proficiency increases. In the areas of education and employment, the ability to speak, read and write English can lead to advancement, a higher financial status and, thus, a more stable family life. Further, parents are better able to take part in their children's education and social activities. And their health and safety benefit when they can discuss their concerns with doctors, pharmacists and other health care workers.
Ken-Ton ESL classes are held every Tuesday, Wednesday and Thursday evenings from 5:00pm to 7:00pm in room 261 of the Benjamin Franklin Middle School, 540 Parkhurst Boulevard in Tonawanda. Anyone who wishes to enroll is encouraged to bring an English-speaking person with them to the first class. Students are welcome on a walk-in basis. If more information is needed, please have an English speaking person call Denise Jurewicz at 874-8411 ext. 35316.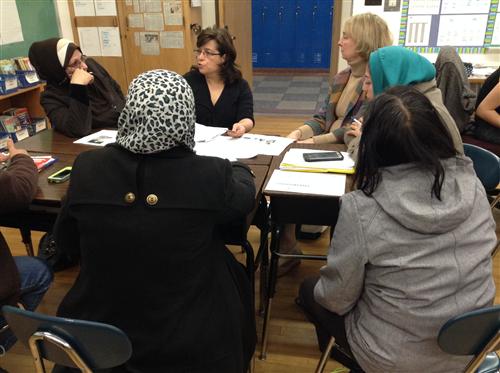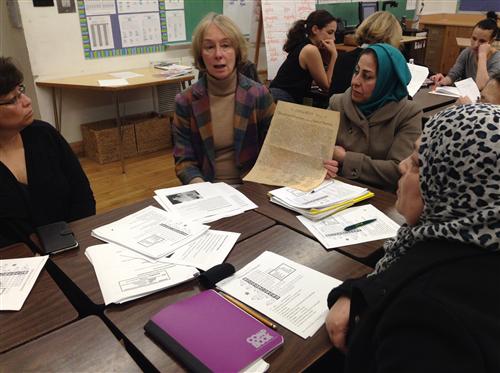 Students and volunteers examine and discuss the Declaration of Independence.
Connect With Ken-Ton Schools