Kenmore-Town of Tonawanda UFSD
Providing our students with the supports, tools, and diverse opportunities needed to meet the challenges of an ever-changing world
Return to Headlines
Alumni Spotlight: Christina Drakeford, Kenmore West High School Class of 2013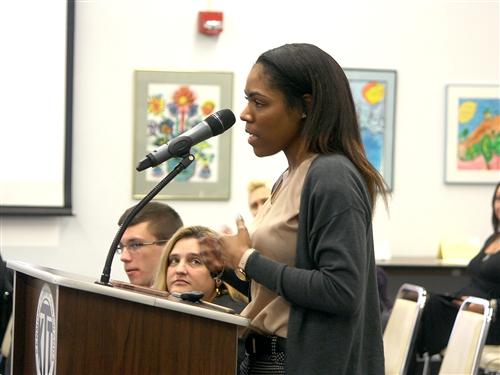 Kenmore West High School alumna Christina Drakeford addresses the Ken-Ton School District Board of Education on April 4, 2017 to highlight the value of the district's rigorous International Baccalaureate (IB) Program.
Christina Drakeford, Kenmore West High School Class of 2013
Kenmore West High School alumna and Cornell University graduate Christina Drakeford has been distinguished as a Cornell University Merrill Presidential Scholar.
This distinction is only awarded to the top 1 percent of graduates, and Merrill Scholars are chosen not only for their scholastic accomplishments but also their "remarkable intellectual drive, energetic leadership abilities and a propensity to contribute to the betterment of society," according to Cornell University.
Christina was the valedictorian of the Kenmore West High School Class of 2013, and was also among the first graduates of the school's prestigious International Baccalaureate (IB) Program. In December, Christina graduated a semester early from Cornell University and is currently working at Cellino & Barnes in Buffalo as a human resources assistant. She will begin law school in the fall.
At the Merrill Presidential Scholars Convocation, which is typically held in May, the students chosen for this honor are asked to invite one member of the Cornell University faculty and one secondary school teacher to attend. Christina asked Laura Howse, coordinator of the IB Program at Kenmore West High School, because of the impact she had on Christina's high school experience.
"Kenmore West provides challenging programs for its students (honors, AP, IB) in order to prepare them for their undergraduate years," Christina said. "Experiencing this academic environment gave me the confidence to begin Cornell knowing that I had the tools necessary to perform well there. I would recommend taking advantage of as many extracurricular activities and academic opportunities as you can in order to develop yourself and get a taste of what life post-graduation may be like."
Ken-Ton is proud of our alumni! We want to highlight their achievements, so please share information by emailing pfanelli@ktufsd.org.
Connect With Ken-Ton Schools