Kenmore-Town of Tonawanda UFSD
Providing our students with the supports, tools, and diverse opportunities needed to meet the challenges of an ever-changing world
Return to Headlines
Board Recognizes Bus Driver, Senior Custodian, and Big Picture Program Student/Staff
Richard Pates, a student in the Big Picture Program; Michael Kollmar, senior building custodian at the Kenmore Middle School where the Big Picture Program is housed; and the entire Big Picture Program faculty and staff were recognized at the April 4 Board of Education meeting by Interim Superintendent Stephen Bovino, Board President Jill O'Malley and the entire Board of Education. Also recognized was bus driver William Dockstader.
Click here to visit the Board of Education Recognitions page for those recognized at previous meetings
.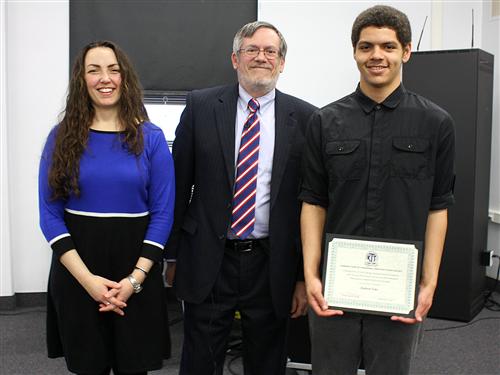 Richard Pates, Big Picture Student
Richard Pates has been a model Big Picture student during his 4 years in our Program. He treats all students and staff members with a caring compassionate demeanor, always behaving in an enthusiastic and positive manner. Richard came into our program with a curiosity and passion for locks. Throughout his time here at Big Picture he has intertwined his passion for locks with his learning goals and his 4-year internship by working as a locksmith. It is because of Richard's focus and determination that we are recognizing him here tonight. Congratulations Richard for his outstanding achievement as a Big Picture student!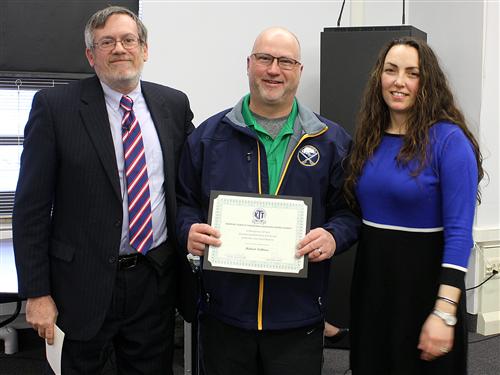 Michael Kollmar, Support Staff
If you are in the building and run into a happy, helpful, knowledgeable gentleman, then you have met Michael Kollmar, or Mayor Mike as he is affectionately known by the students. Mike is the head custodian of KMS and moved to the building when Big Picture relocated just to stay with the Big Picture Program. Although he is not on the Big Picture payroll every person in the program would tell you he is a member of the Big Picture team. He cares about the students and donates many hours in a coaching capacity making individual connections with them. In addition, he has provided several internship opportunities. It is because of his passion for students that he has been recognized! Thank you Mike for everything you do for Big Picture.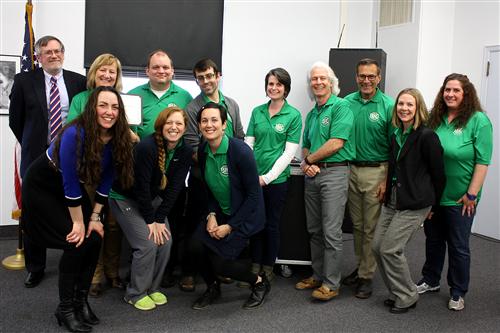 Back row, from left, Interim Superintendent Stephen Bovino, Anne Blenk, Chris Watson, Michael Radosta, Michelle Phillips, Jim Kelleher, Matt Chimera, Christine Koch, and Stacey Pritchard. Front row, from left, Board President Jill O'Malley, Sara Ark, and Karen Pritchard.
Big Picture Team
The Big Picture Program is in its 5th year and we are so lucky to have these individuals working in this program. They truly work together like a well-oiled machine ready to help out in whatever capacity is needed. Their passion for students is evident in all of their actions and the students will tell you that Big Picture is like one big family. The staff's interactions with students are always positive and supportive, constantly reminding the students that we believe in them. Thank you for your continued dedication to our students!
William Dockstader, Bus Driver
Bill has been a bus driver for Ken-Ton for over twelve years. He comes from a management career working at Verizon and was looking for a part-time retirement job. Bill has a permanent run in the mornings and he subs on different routes in the afternoons. He has made himself available to tranportation every afternoon and does whatever you give him to cover and he gets the job done. He has a great work ethic, handles himself very professionally and follows all our policies and rules. He can handle anything complex and challenging and has a great rapport with his follow co workers. Bill will spread the word that bus driving is a great paying part time job. He is a great asset to our department.
Connect With Ken-Ton Schools