Kenmore-Town of Tonawanda UFSD
Providing our students with the supports, tools, and diverse opportunities needed to meet the challenges of an ever-changing world
Return to Headlines
Lindbergh Elementary Students Welcome Veterans to School for Special Assembly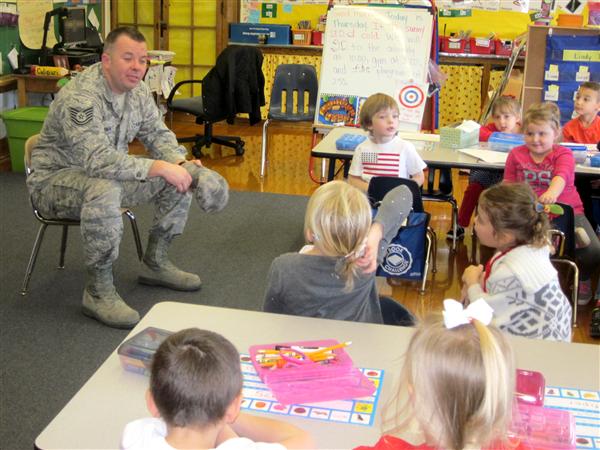 On Thursday, Nov. 10, Lindbergh Elementary staff and students held a special assembly to celebrate veterans. Students from Mrs. Murdola's and Ms. Mancuso's class shared the differences between Memorial Day and Veterans Day. Student essay winners from each grade level read their essays on the topic, "What is Veterans Day?" Many students had personal connections in their essay because a family member was in a branch of the military.
Mr. Holden led students in performing the "Star Spangled Banner" and "America, America." Veterans from the Army, Marines, Air Force, and Navy were acknowledged for their service to our country. Then, veterans proceeded to classrooms to share and answer questions about what it means to serve our country. Students enjoyed learning about what it was like to be part of the military. Invited veterans were then joined by the students for refreshments in the Performing Arts Center.
Mrs. Burns' second grade class at Lindbergh Elementary also received a special treat recently while learning about veterans. Chris Kreiger, an Army veteran and president and co-founder of WNY Heroes, visited Mrs. Burns' classroom to share information about what it was like being in the military and a veteran.
Mr. Kreiger brought along his service dog, Bubba, to the classroom to share with the students. Students learned that Bubba needed to be trained for one year and has a specific job in order to help Mr. Kreiger. When Bubba is wearing his camouflage vest, made from Mr. Kreiger's uniform, he knows that he has a job to do. When the vest comes off, Bubba knows that it is time to play and be like a normal dog.
WNY Heroes Inc. supports Western New York veterans. They have trained 33 dogs to provide to veterans. Their mission is to provide veterans, members of the armed services, and family members of the deceased with access to essential services, financial assistance, and resources that support their lives and sustain their dignity.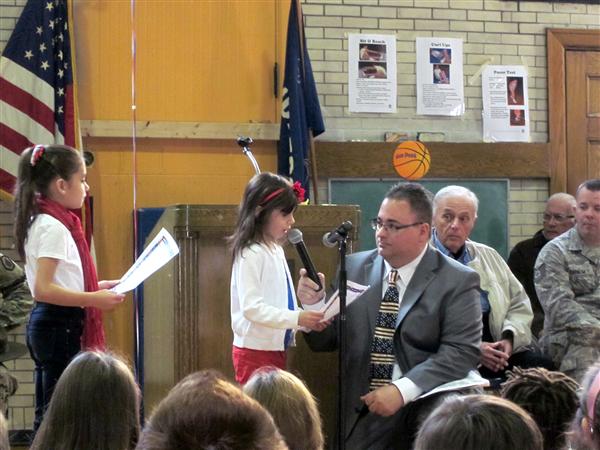 Veterans visit Lindbergh Elementary for Veterans Day assembly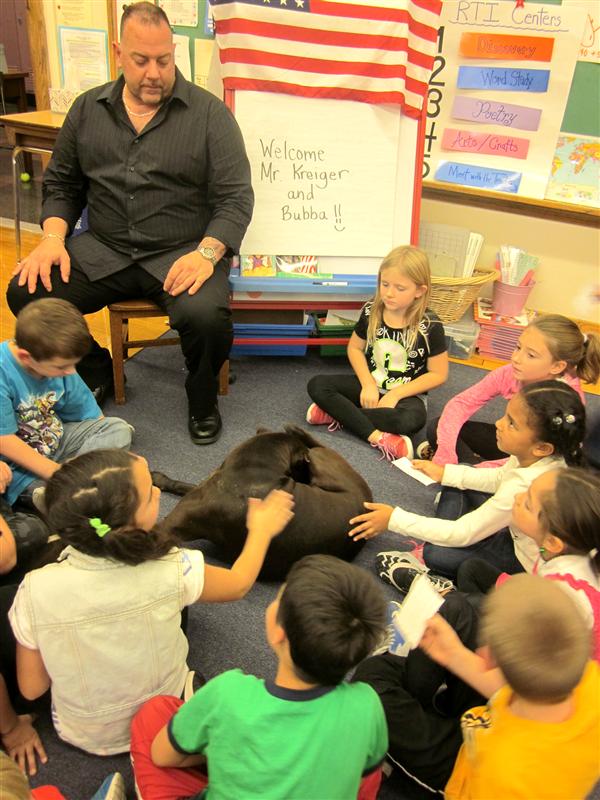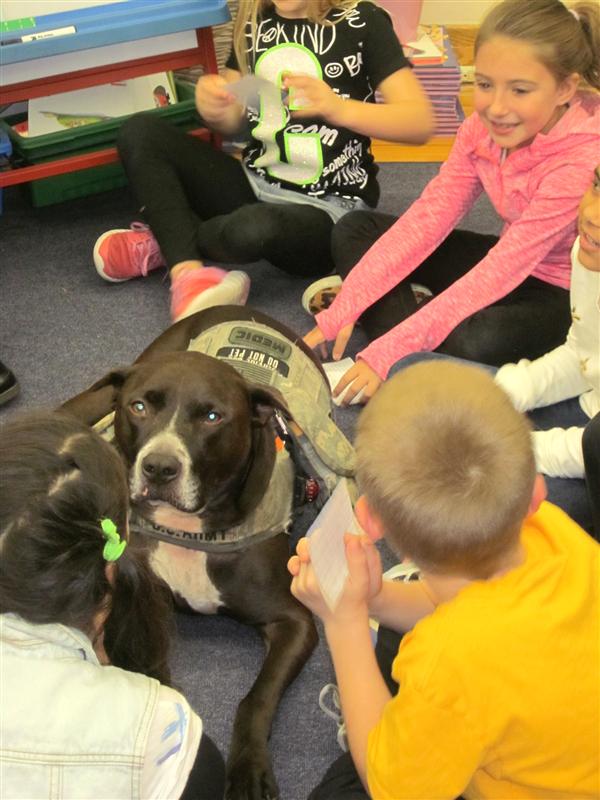 Chris Kreiger visits Lindbergh class
Connect With Ken-Ton Schools