Kenmore-Town of Tonawanda UFSD
Providing our students with the supports, tools, and diverse opportunities needed to meet the challenges of an ever-changing world
Return to Headlines
Olympic Gold Medalist Visits 2nd-Grade Class at Edison Elementary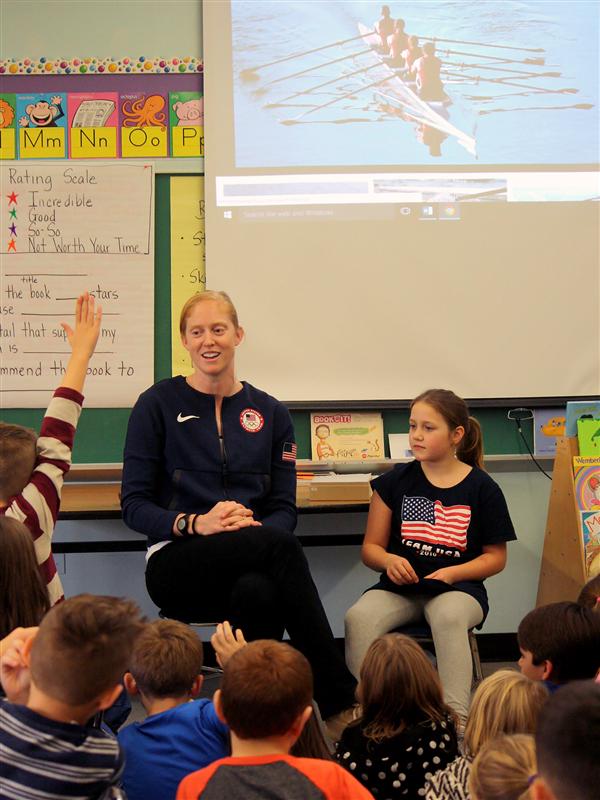 Edison Elementary School second-graders in Risa Klee's class had the opportunity to learn about sportsmanship and perseverance from a special visitor on Nov. 10: a Western New York native who made Buffalo history at the 2016 Summer Olympics in Rio de Janeiro.
Emily Regan was part of the U.S. Women's National Team that won the Gold Medal in the Women's Eight Rowing Final after a thrilling two-kilometer race that separated them from the runners-up, Great Britain, by just over 2 seconds.
Regan was the first from Western New York to win an Olympic gold medal in rowing. It was her fourth world championship as part of the team, which was widely considered to be a dominant force at the Olympics.
The students were excited to meet Regan and engaged as she spoke about how hard the team trained and how hard they worked to accomplish what they had set out to achieve. She also taught them a little about the sport of rowing and shared some of her experiences in Rio.
Regan's cousin, Willow Root, is a student in Klee's class. She was immensely proud of her older cousin's accomplishments and invited Regan to visit the class when the family knew Regan would be back home in Western New York.
"Speaking and inspiring young students is another one of Emily's passions," Klee said.
Using the classroom map, Regan showed the class all of the countries and continents she has visited during her career, and each member of the class had a chance to hold the heavy gold medal she won in Rio.
Connect With Ken-Ton Schools