Kenmore-Town of Tonawanda UFSD
Providing our students with the supports, tools, and diverse opportunities needed to meet the challenges of an ever-changing world
Return to Headlines
Surprise Gifts Await Veterans After D.C. Trip With Contributions From Franklin Middle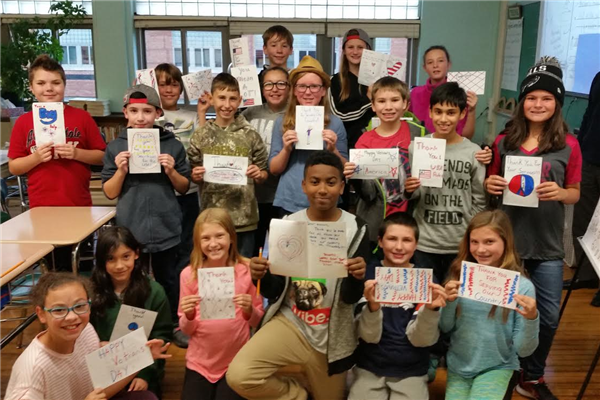 On Saturday, October 29, the Buffalo Niagara Honor Flight Organization offered a trip of a lifetime to veterans of World War II, the Korean War, and the Vietnam War. They were flown to Washington D.C. to tour their national memorials and view the changing of the guard ceremony and Arlington National Cemetery. They had a special gift waiting for them when they returned with contributions from Franklin Middle School.
Honor Flight's mission is to get as many veterans to Washington, DC as possible. The veterans were treated to a wonderful send-off as they received an escort to the Buffalo Niagara Airport by Erie County Sheriff's Department motorcycle officers, the Patriot Guard Motorcycles, and the U-Crest Fire Company. All lights and sirens were blazing. Once at the airport, American Legion and Patriot Guard members lined the hallways for the veterans with well-wishers cheering and waving their flags thanking them for their service. When the veterans arrived in Baltimore, they were treated to another warm welcome by active-duty members of all branches of our military.
Emotional visits then followed at the World War II Memorial, Iwo Jima Memorial, Korean War Memorial, Vietnam War Memorial, and Arlington National Cemetery, as our veterans paid their respects to the nation's fallen heroes.
After a long day, the WNY veterans were welcomed back home by more well-wishers waving flags and they were even greeted by the Buffalo Police Department's Bagpipe Band. Each veteran was given a welcome home bag that had an envelope full of notes and cards to thank them for their service all those years ago. Several classes of students from Franklin Middle School had letters in those bags. The veterans were touched by their heartfelt notes and cards.
Amy Bruce, a sixth-grade teacher, whose father-in-law Howard Bruce was on the flight, was happy to get the students involved in this wonderful project. It was a great opportunity to have students give back to their community and show their gratitude for the sacrifices that all veterans have given for the freedoms they enjoy today.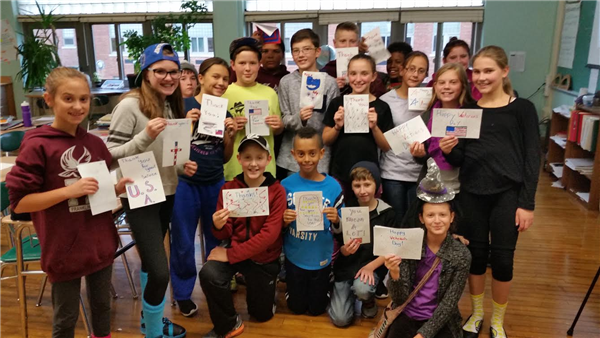 Greg Minorczyk's sixth-graders and their thank you cards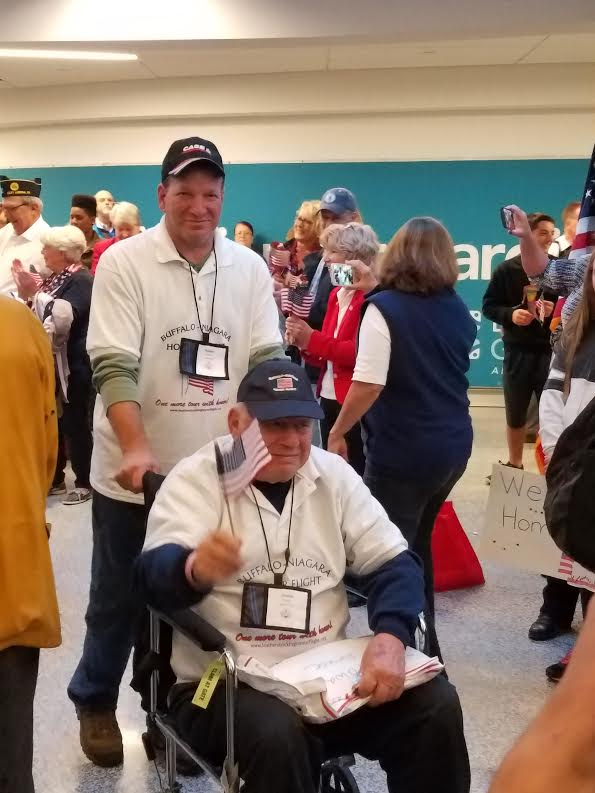 Robert and Howard Bruce depart for Washington, DC
Connect With Ken-Ton Schools