Kenmore-Town of Tonawanda UFSD
Providing our students with the supports, tools, and diverse opportunities needed to meet the challenges of an ever-changing world
Return to Headlines
Edison Elementary Students Get Lesson in Aquaponics, Sustainability and Healthy Eating With Fish & Home-Grown Plants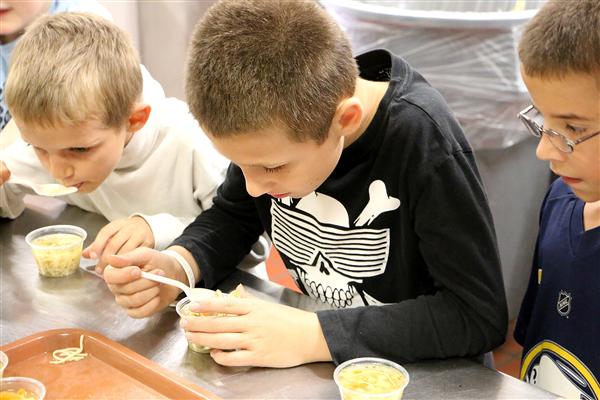 With the help of a Betta fish named Eddie, teachers and food service staff at Edison Elementary School are teaming up to provide a unique educational experience that introduces students to subjects such as sustainability, agriculture, aquaculture, and hydroponics.
Eddie lives in a self-cleaning fish tank that is able to produce food. By observing Eddie and the plants that grow above his tank, students can develop a greater appreciation and understanding of where their food comes from and issues related to food production.
The process begins with Eddie, who like all fish produces ammonia-rich waste that would be harmful if it were allowed to accumulate. Normally, Eddie's fish tank would have to be cleaned regularly to keep him healthy. However, bacteria are present in the tank to turn the waste into nitrates, which make excellent fertilizer. Edible plants growing above the fish tank absorb the nitrates, keeping the fish tank clean and allowing the plants to grow. Eddie then feeds off the roots of the plants that are produced, creating an extremely efficient closed-loop ecosystem.
That's one way students at Edison Elementary are able to learn about the growing process. They are also now able to observe miniature mushroom farms that produce pearl oyster mushrooms by just misting them with water, as well as an indoor herb garden.
"The whole idea behind our program at Edison is to go 'back to the roots,'" said Nicole Zugelder, Edison Elementary physical education teacher. "We want to teach students where their food is coming from and that it is possible to have wholesome goodness during every season here in Western New York."
The project was initiated by Zugelder and Mary Lou Rizzo, Edison Elementary kitchen manager, to teach students about ecosystems and aquaponics, the process of using aquatic animals like fish to grow plants in water. It was also meant to cultivate a healthier school environment, enabling the school to make healthy home-grown herbs and vegetables available for students to sample.
"This program makes learning fun, shows kids the importance of good nutrition and gives them ownership over it as they take care of the fish and gardens," said Heather Ratka, health and physical education curriculum learning specialist.
School districts have been encouraged to grow school gardens and use the food for educational experiences, and these indoor methods of growing make it possible to enjoy fresh home-grown herbs and vegetables even in the winter. One goal is to get students thinking more about food that is not pre-packaged with chemicals among the ingredients.
At a conference on healthy food and food production, Zugelder and Rizzo along with other members of the Kenmore-Town of Tonawanda UFSD District Wellness Committee were introduced to a successful California start-up called Back to the Roots that developed the mushroom farms and food-producing, self-cleaning fish tanks. Recognizing the educational potential in these innovative products, they decided to bring them back to Edison Elementary. Soon, they will be introduced in all Kenmore-Town of Tonawanda schools as well.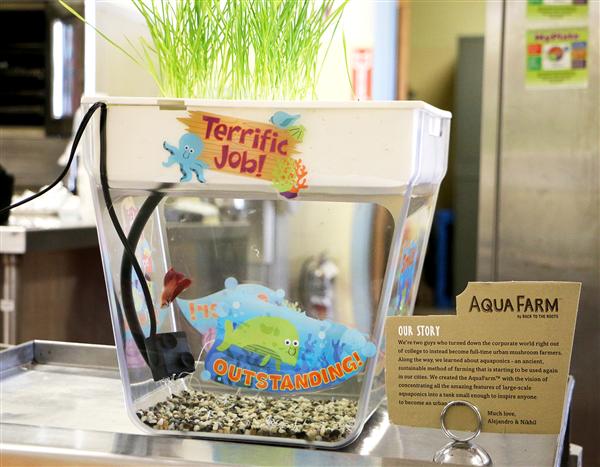 Connect With Ken-Ton Schools