Kenmore-Town of Tonawanda UFSD
Providing our students with the supports, tools, and diverse opportunities needed to meet the challenges of an ever-changing world
Return to Headlines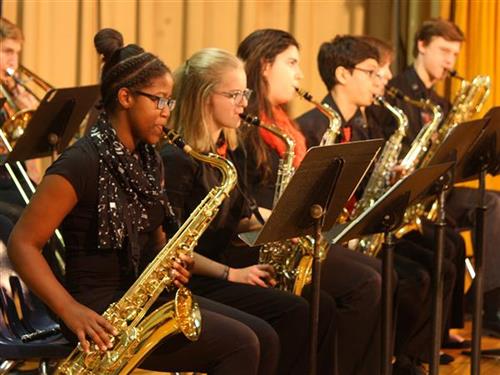 For eight years in a row, the Ken-Ton School District has been counted among the tiny fraction of the nation's school districts to be designated as a "Best Community for Music Education" by the NAMM Foundation for its outstanding K-12 music programs. These programs are led by approximately 30 full-time music teachers, many of whom are well-known and accomplished performers in the WNY music community. For instance, during the 2017-18 school year, five Ken-Ton music teachers were among the winners of the JazzBuffalo poll; another performed with the Buffalo Philharmonic Orchestra during its groundbreaking tour of Europe; and another was named General Music Educator of the Year by Buffalo State College.
Music education begins in kindergarten for every student, and vocal and instrumental education begins in Grade 4. Students can take part in band, orchestra, and chorus ensembles at the elementary, middle and high school level during the school year and summer with many additional smaller-group and advanced ensemble opportunities at the high school level. The district's two high schools, Kenmore East and Kenmore West, both feature a wide variety of extremely talented vocal, instrumental, and string ensembles. High school students can also take various music electives including Advanced Placement (AP) Music Theory and International Baccalaureate (IB) Music.
Ken-Ton students and ensembles routinely perform exceptionally in regional and state competition, and countless students earn a place in the All-County, Area All-State, and Conference All-State festivals, as well as other highly selective regional and statewide ensembles. Music faculty and students are also very active in the community, providing entertainment at major regional events and venues through partnerships with a multitude of organizations.
To learn more about Ken-Ton's music programs, visit www.ktufsd.org/music.
Connect With Ken-Ton Schools