Kenmore-Town of Tonawanda UFSD
Providing our students with the supports, tools, and diverse opportunities needed to meet the challenges of an ever-changing world
Return to Headlines
Connor Grohman, Kenmore West High School Student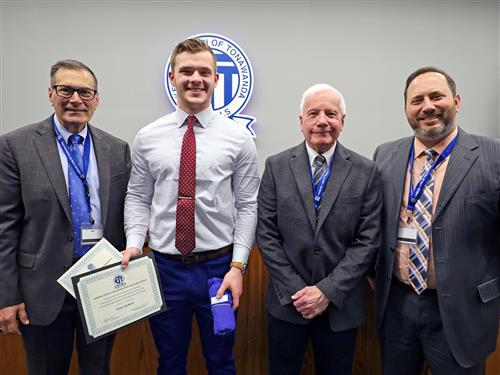 Connor Grohman, Kenmore West High School Student
We are very pleased to recognize Connor Grohman for our Kenmore West High School Student recognition.
Connor's passion for learning and creating has been a lifetime exploration. Instead of handing him a TV remote when he was a kid, his parents would hand him a bucket of nails and a hammer. Little did he know, this would lead him to who he is today.
His love for creating and building comes to life in his studies at Kenmore West. He is enrolled in the Pre-Engineering Academy and participates in Project Lead the Way. Connor currently works in property management as a general laborer. He is able to use his passion and skills to maintain and renovate properties throughout Buffalo. He has been interning at Hadley Exhibits where he is expanding his knowledge to include contributing to million dollar large scale exhibit construction.
Connor is an active contributor to the school community. He serves on the Kenmore West Makes a Difference committee and the district CTE committee. He has been a vital member of the wrestling and soccer teams where he has received numerous awards. Most recently, he earned 2nd place in the Section 6 Class AA Wrestling tournament. He is a member of the National Honor Society and is a Link Crew Leader, He is a member of the Donate Life and Class of 2022 clubs.
In his free time, Connor and his brother started a small woodworking business where they make customers' visions come to life. Connor exemplifies the spirit of Kenmore West. His commitment to learning and dedication to serving and contributing to his community is a model for all students.
It is our pleasure to award our student recognition to Connor Grohman!
Connect With Ken-Ton Schools