Kenmore-Town of Tonawanda UFSD
Providing our students with the supports, tools, and diverse opportunities needed to meet the challenges of an ever-changing world
Return to Headlines
Diana Gruninger, Kenmore West High School Teacher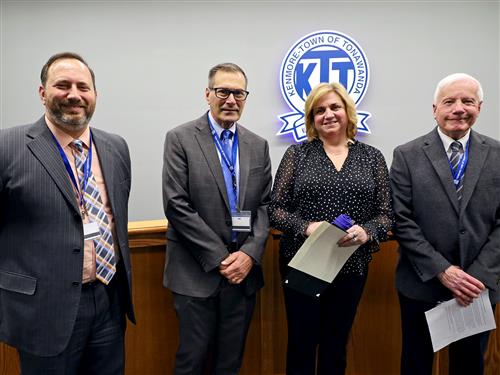 Diana Gruninger, Kenmore West High School Teacher
We are very pleased to recognize Diana Gruninger for our Kenmore West High School Teacher recognition.
Mrs. Gruninger has been an English Teacher and Theater Teacher for 22 years and has taught at Kenmore West High School for the past 16 years. Mrs. Gruninger was selected for this recognition because of her role as a teacher and leader of the Kenmore West Theater Program. Mrs. Gruninger currently teaches Theater Levels 1, 2, 3, 4, as well as IB Theater.
In addition to her teaching responsibilities, Mrs. Gruninger has been involved with many other activities that support her students and the theater program. Mrs. Gruninger directs the Fall Play and Spring Play. She also facilitates her students participation in the following activities: New York State Theatre Education Association Student Conferences; National Shakespeare Competitions; 24 Hour Plays; IB Collaborative Performances; Theater 4 Capstone One Acts; Band Against Bullying Performances; Internships at local theaters; Artist Workshops;
Improvisational Club; Stage Crew, Art Crew, Production Team; and Technical Crew.
Mrs. Gruninger is a dynamic and engaging teacher who is passionate about theater and even more dedicated to teaching and engaging her students in the world of theater. She has cultivated an environment that is rooted in teamwork, honesty, and compassion. She frequently says that there is a place for everyone who wants to be a part of Theater West. Mrs. Gruninger truly wants all of her students to feel connected to school and to experience that sense of genuine belonging. She continues to support her students through post-secondary planning and celebrates her students' successes long after graduation.
Mrs. Grununger's passion and spirit is evident in her students. Her students are wonderful representatives of our district, school, and theater program.
It is our pleasure to award our teacher recognition to Mrs. Diana Gruninger!
Connect With Ken-Ton Schools