Kenmore-Town of Tonawanda UFSD
Providing our students with the supports, tools, and diverse opportunities needed to meet the challenges of an ever-changing world
Return to Headlines
Rachel Vitko, Kenmore East High School Student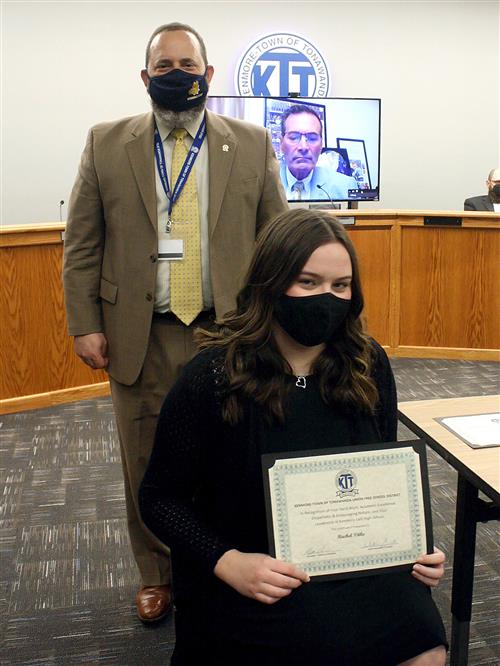 Rachel Vitko, Kenmore East High School Student
From Kenmore East High School Counselor John Vogt:
I admit it: My first impression of Rachel Vitko's personality could not have been more inaccurate. I knew that she was an academically gifted and very motivated learner. That was true then as it remains now, easily verified by her current 97.64% GPA which places her 9th in the graduating class. I knew that there were not enough class periods in the school day to accommodate her 10+ course schedule requests. With discipline and interest across the curriculum, she would need 15 periods to cover all the courses she wanted. As we made decisions during my first meeting with her, she was nervous, shy, and stopped in the middle of almost every sentence to second guess her response. I concluded that she must be an anxious introvert. Questions from me seemed to elicit a panicked response. It would be tough to connect with her, but there was something fun under that panic that made me curious. I persisted…
A year later, I had the pleasure of guest teaching in her Colleges, Careers, and Finances class and then seeing her onstage in the play, Almost Maine. To my shock, Rachel played a strong-willed character who ended up dressed in only a slip by the end of the scene. A few weeks after, she auditioned for the musical (where I serve as the director) and belted out her song with abandon. Could this have possibly been the same person? Far from the anxious introvert, Rachel had become a tour de force of energy and enthusiasm, an uninhibited risk taker with talent to back it up! In my joyful experience with her since that audition, I have come to know Rachel as a woman of strength and intelligent wit…and a hearty laugh that is truly contagious. She was first to raise a hand with a question in class, and last to leave a rehearsal for the musical, thanking her teachers and directors on the way out. Rachel sets the bar high and with magnetic force and pulls everyone else along for the ride, with no hint of arrogance or affectation. She leads with empathy and humility, naturally encouraging those around while pushing herself outside her comfort zone. She is as comfortable offering to tutor a classmate in Economics as she is creating a character role in a musical. Watching her evolution unfold, I have come to realize that Rachel learns as much from the people around her as they learn from her. Through this incredibly dynamic reciprocity, coupled with a positive zest for life, Rachel Vitko has established a space all her own outside the box that is far more interesting than any place the box could offer. The anxious introvert has found her voice.
Connect With Ken-Ton Schools