Kenmore-Town of Tonawanda UFSD
Providing our students with the supports, tools, and diverse opportunities needed to meet the challenges of an ever-changing world
Return to Headlines
James Holden, Lindbergh Elementary School Music Teacher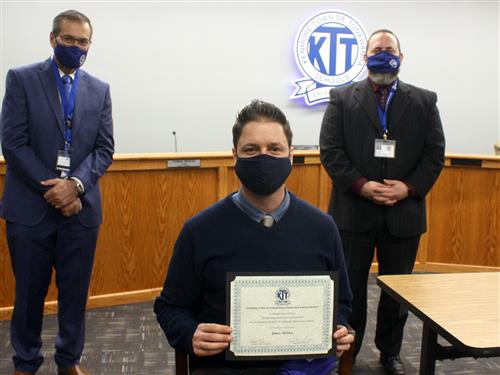 James Holden, Lindbergh Elementary School Music Teacher
Mr. Jamie Holden is the vocal music teacher at Lindbergh Elementary School. He is always such a calm and steadying force in the building. Jamie goes above and beyond with his efforts recording the daily school announcements as well putting together staff videos for students and families to enjoy. These videos bring the staff together. He incorporates his creativity in everything that he does.
Jamie is creative, dedicated, innovative, kind, and an exemplary role model of good character and kindness for the students. For many years, he has worked tirelessly with the fourth grade students to put together the school musical. Jamie includes social emotional learning in his directing and teaching. He is respectful of individual student differences and brings out the best in all of his students.
Jamie has also created beautiful musical resources for all of his students during this unusual year. Mr. Holden took on the challenge of teaching vocal music, this year, without vocalizing much and that was a Herculean effort! He stayed positive through it all and found new ways to make music with children. Mr. Holden is a valued and highly respected member of the Lindbergh family. Lindbergh is grateful to have him as part of our school.
Connect With Ken-Ton Schools