Kenmore-Town of Tonawanda UFSD
Providing our students with the supports, tools, and diverse opportunities needed to meet the challenges of an ever-changing world
Return to Headlines
Jennifer Gazdovich, Kenmore West High School Teacher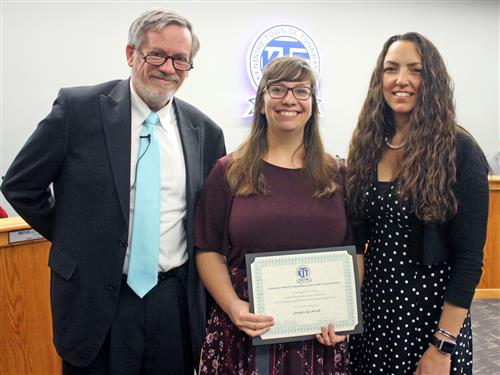 Jennifer Gazdovich, Kenmore West High School Teacher
We are very pleased to recognize Jennifer Gazdovich for our Teacher recognition. Mrs. Gazdovich is a Physics Teacher and Science Olympiad Adviser at Kenmore West High School.
Mrs. Gazdovich truly distinguishes herself as a learner and teacher. Her curiosity and enthusiasm for learning is evident through her diverse professional experiences. She seeks new learning and professional development through the Western New York Physics Teachers Alliance, QuickNet, CERN Teacher Program, Buffalo State Course Audits, and Computer Science for High School (CS4HS) and Engineering classes.
Mrs. Gazdovich was selected to conduct research at CERN, European Organization for Nuclear Research. She used this experience to create a learning activity for students and teachers that allows them to build understanding around the connections between physics and biology through PET scan technology. Her "Model PET Scan Activity" was published in the Physics Teacher publication, in May 2018.
Mrs. Gazdovich's love of teaching and true appreciation for working with students is evident by observing her classes and students. Mrs. Gazdovich is always exploring and finding new ways to make the learning of science relevant for her students.
Connect With Ken-Ton Schools