Kenmore-Town of Tonawanda UFSD
Providing our students with the supports, tools, and diverse opportunities needed to meet the challenges of an ever-changing world
Return to Headlines
Judy Lobuzzetta, Kenmore East High School Classroom Aide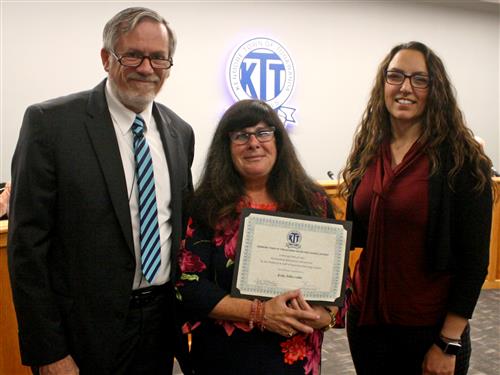 Judy Lobuzzetta, Kenmore East High School Classroom Aide
This school year marks the 20th year Judy Lobuzzetta has been working in our district as a classroom aide. Her K. E. family is grateful that she found her way through their doors and has been honored. Judy is the epitome of what it means to be devoted to one's passion. She is:
Kind: "Sometimes it takes only one act of kindness and caring to change a person's life." Judy shows kindness to the students and her colleagues. If a student is in need of lunch money, a prom ticket, new boots, etc., Judy is there. If a colleague is in need of a shoulder to lean on, advice, or even chicken cutlets, again, Judy is there.
Passionate: As the school year approached, many of us were bummed that summer was coming to an end. Judy was counting the days until we begin again because she could not wait to get back to see how the students are doing. Greeting them with a hug, as they walk into the room, she's eager to hear of their summer adventures. Today, If you were to congratulate her on this honor, you would hear her say, "I really don't deserve this; I'm just doing my job."
Empathetic: Judy always puts herself in everyone else's shoes and see things from their perspective. She has a natural way of figuring out why certain students may be acting the way that they are, and guides them through the situation leading them to make the right decision. On many occasions, students track her down because they are having a day and just need her listening ears, a pop-tart, a hug or great advice to get through the rest of their day.
Positive: Judy recognizes when students or colleagues are in need of support and encouragement to face their fears. It's not unusual to hear her belting out "Shake it off" by Taylor Swift, "Today's, gonna be a good day," or "Come on, you got this! " to help turn their day around. She also is known to give students little notes to keep in their pocket, affirming that they can do anything, settling their anxiety and encouraging them to overcome their fear.
Role model: "Be a wonderful role model because you will be the window through which many children will see their future." This quote embodies Judy. Ask any student who has walked into the Learning Center, past her desk without greeting her, and you will learn that Mrs. L. made them "back it up right now, and try that again!" Judy also shares life experiences with the students, especially the shenanigans of her sons, Billy and Michael, to help them realize that we are all human, we all have faced and overcame struggles, made some silly mistakes, giving them the hope that "Lovie, it's okay; this too will pass."
Mr. Heyden always speaks of K. E. being one big happy family; Judy lives and breathes this idea. Many students are intrigued and still trying to figure out how Mrs. L is the mom to so many teachers. Students will ask, "Wait, your Miss Cavese's mom and Mr. Orlowski's and Mr. Martin's and Mrs G's...? So, they are all brothers and sisters?" Her reply is," Yeah, don't we look alike?" This astonishes the students leaving them puzzled for years. The impact Judy has upon all at East is undeniable.
Connect With Ken-Ton Schools