Kenmore-Town of Tonawanda UFSD
Providing our students with the supports, tools, and diverse opportunities needed to meet the challenges of an ever-changing world
Return to Headlines
Kenmore West Students Show Off Work at Engineering Showcase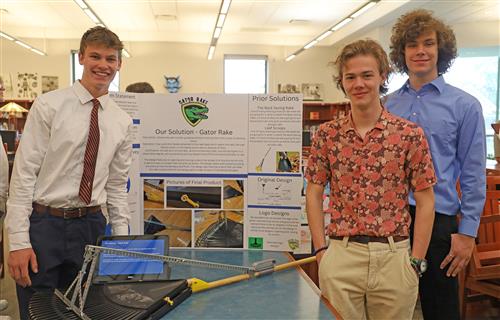 Students in Michael Sierzchula's pre-engineering classes recently showcased months of hard work, creative thinking, and problem-solving.
A total of 25 students from two classes took part in Kenmore West's annual Engineering Design and Development (EDD) Prototype Showcase. The event challenges students to work in teams to develop a solution to an open-ended engineering problem.
"The students are required to come up with a problem that hasn't been adequately addressed," Sierzchula said. "The problem also needs to be worthwhile, not just a problem for a handful of individuals."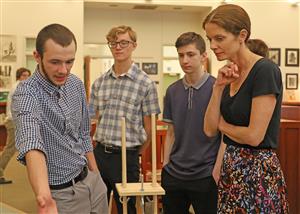 Students work on their projects for about 25 weeks of the school year. During that time, research, go through background materials, find a problem, and work on a solution.
All of the projects went on display on Wednesday, May 24th in the Kenmore West library. Each team set up a board with information on their project, along with a prototype if applicable, for a hands-on learning experience. Staff, classmates, and community members were then able to make their way around the room to hear more about each individual problem, the steps and process of each team's work, how they got to their solution, and their final testing results.
"The students were very involved and excited to show off what they did this year. They looked and sounded professional," Sierzchula said. "We had a great reaction from attendees. Some were even inquiring about purchasing some of the products."
Connect With Ken-Ton Schools