Kenmore-Town of Tonawanda UFSD
Providing our students with the supports, tools, and diverse opportunities needed to meet the challenges of an ever-changing world
Return to Headlines
Kenmore West Hosts Women's Empowerment Panel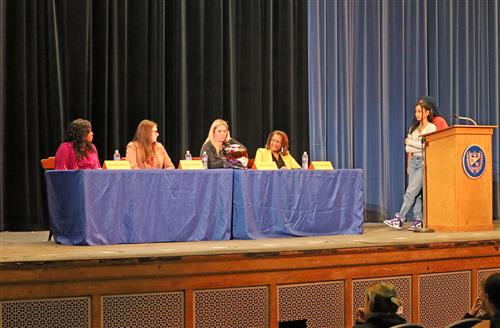 On Tuesday, March 21st, the Kenmore West Young Women's Empowerment Group held a Women in Leadership Panel Assembly to encourage and inspire current students. The panel included four inspirational women who are considered trailblazers in their field.
"We wanted to give our student leaders of the YWEP an opportunity to have an experience in high school where they are able to promote an event that celebrates diversity, moderate a panel discussion, and connect with our greater WNY community," said Director of School Culture Dina Ferraraccio and Kenmore West Social Worker Michele Taberski.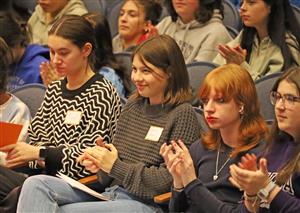 Kenmore West upperclassmen ran the event which featured a Q&A panel discussion with the following individuals: Rene Petties-Jones, President of the National Federation for Just Communities of WNY, Inc. and a member of the Community Foundation for Greater Buffalo's Racial Equity Roundtable; Melanie Salemi, a drag racer for over 25 years who continues to be a strong competitor on the PDRA tour; Emma Kelchin, a Senior Product Manager for Rich Products who currently serves on the Desserts Business Unit; and Mercedes Wilson, an author, advocate, entrepreneur, and cancer survivor who also serves as co-host of AM Buffalo on WKBW.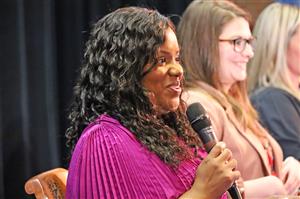 The panelists took turns answering various questions and discussed themes such as resilience, vulnerability, family, work ethic, kindness, overcoming adversity, and staying positive and focused on your goals.
"By connecting with both the strengths and struggles of the panelists, I think our students heard the message that even the most successful people have failed, but if you surround yourself with the right people, work hard, and be authentic, you will also experience success," Ferraraccio and Taberski said. "These inspirational stories can plant a seed or help a young person see a future for themselves that they did not know or believe existed for them."
Connect With Ken-Ton Schools