Kenmore-Town of Tonawanda UFSD
Providing our students with the supports, tools, and diverse opportunities needed to meet the challenges of an ever-changing world
Return to Headlines
Two Ken-Ton Classrooms Participate in Global Collaboration Project
For the past couple of years, the Ken-Ton School District has been involved with the United Nations Sustainable Development Goals Project. The project works to empower students to have a positive impact on the world they live in.
"This project brings life to the district's vision of creating a community of confident, socially aware learners who believe in their ability to succeed," Ken-Ton's Instructional Support Specialist David Rogalski said. "Both classrooms involved [Perryman, Bianchi] this year will be collaborating with classes from around the globe to think of ways to solve some of the planet's most pressing problems."
Tom Perryman's 1st grade class at Lindbergh Elementary and Alex Bianchi's 1st grade class at Franklin Elementary are participating in this year's project. The classrooms were assigned the topic of "Zero Hunger" to investigate and learn more about. They watched several videos from classrooms all over the world to gain a better understanding of the problems other countries are currently facing.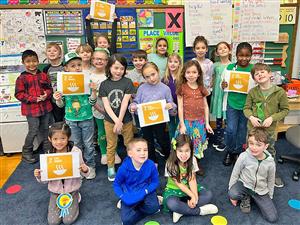 "Watching videos and learning from the thoughts and perspective of others is very powerful," Perryman said. "Making connections and seeing how much we have in common with others will make this class better global citizens."
After moving to the topic of hunger in their own community, Perryman's students started to put a plan into action. Students brought in canned foods for the annual Jerry Starr Ken-Ton Schools' SleepOut and are currently working on signs that include ways to help fight food shortages and end food waste.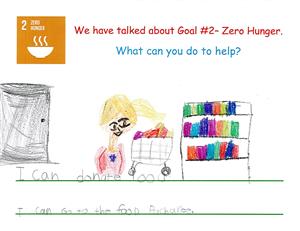 Last year, Perryman's class focused on the topic of "Clean Water" and were able to take part in a fundraiser to help build wells in Africa. They connected with classrooms in Texas, India, and Bangladesh.
"I really think it is important to help children see that the world is a very big place. We are not always able to see outside our own bubble and make connections with students our age from around the world," Perryman said. "It gives them the opportunity to feel fortunate for all of those in need that we take for granted."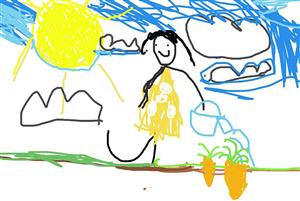 This is Bianchi's first time taking part in the project and he has seen his students become eager to learn about schools in other countries. He's incorporated the videos they've watched with a map of the world to show just how wide this project is reaching. His class has also been focusing on the lens that a community can create little pantries and community gardens that will help everyone.
"Our goal was to empower students, even in 1st grade, that we can all do something to help make the world a better place," Bianchi said. "It is so important for students of all ages to realize that they can do something that has a positive impact on the world around them. No matter how little, the actions they take can have a huge impact and spread out into the community."
Connect With Ken-Ton Schools