Kenmore-Town of Tonawanda UFSD
Providing our students with the supports, tools, and diverse opportunities needed to meet the challenges of an ever-changing world
Return to Headlines
IB 10-Year Reunion Alumni Feature: Christopher Phillips
Throughout the spring, we will be catching up with Kenmore West graduates who were a part of the first ever International Baccalaureate program at Ken-Ton. Check out our latest alumni update below.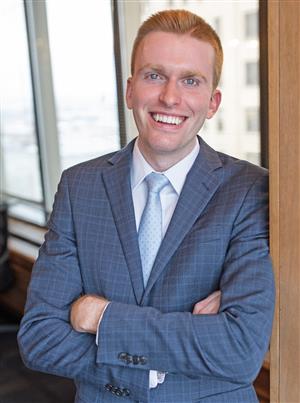 Name: Christopher "CJ" Phillips
Graduation Accomplishments: Christopher graduated from Kenmore West in 2013 with an IB Diploma and an Advanced Regents with Honors with Math and Science Distinctions.
On why he decided to pursue the IB program, Christopher said, "The prospect of getting to join the IB program in its inaugural year was both daunting and exciting. I saw it as an opportunity to challenge myself and gain skills that would help in higher education and my eventual career. The IB program also offered a setting to be surrounded by like-minded and caring classmates, several of whom I am lucky enough to call friends for life."
One experience that Christopher remembers from IB was his selection of the IB Theatre course to fulfill one of his electives. The course wound up not just becoming one of his most memorable experiences of high school, but helped boost his confidence and taught him valuable public speaking skills.
On how the IB program helped him in the real world, Christopher said, "In addition to equipping us with critical thinking skills and training us in proper written and oral communication, the program taught me the value of community. Through our CAS projects, we were challenged to use our talents to better the world around us. This is a mission that has carried over into my current day-to-day life and career, and will continue to motivate me for years to come.
College Life: Christopher went on to study at Canisius College and graduated summa cum laude, with a Bachelor of Arts in Political Science and Psychology and a minor in Law and Public Policy. He continued his education at the University at Buffalo and received his Juris Doctor, magna cum laude, from UB's School of Law in May 2020.
Post-College Journey: Throughout Christopher's high school and college career, he volunteered his time at various local nursing homes. He decided to transfer those skills to law school where he focused on helping older adults manage their affairs as they age. During his first summer of law school, Christopher began an internship with the Center for Elder Law & Justice (CELJ). It's a legal services agency that specializes in providing civil legal services to low-income, disabled, and disadvantaged older adults across 11 counties of Western New York. His work with CELJ continues to this day.
Where is he now? Christopher has been a Staff Attorney for CELJ since June 2020. He primarily works with their Guardianship Unit, which acts as a court-appointed guardian of individuals who've been deemed legally incapacitated and in need of a guardian. His job is to ensure that the individuals' property is appropriately managed, their benefits properly maintained, and they're afforded safe and dignified medical treatment. He also oversees CELJ's Aging with Pride Project, which provides civil legal representation to LGBTQ+ older adults throughout WNY.
Christopher also leads a contract with the Cattaraugus County Department of the Aging and provides civil legal representation to rural residents living throughout that area.
Speaking about his current work, Christopher said, "I truly feel as though I have found my calling. I hope to continue in this line of work for many years to come."
He is one of the many former IB graduates who plan to attend this summer's 10-year reunion of the first ever graduating class and can't wait to hear about all the great work his former classmates are doing to help make this world a better place.
Past Alumni Features:
Connect With Ken-Ton Schools