Kenmore-Town of Tonawanda UFSD
Providing our students with the supports, tools, and diverse opportunities needed to meet the challenges of an ever-changing world
Return to Headlines
IB 10-Year Reunion Alumni Feature: Jacquelyn Sagasta
Throughout the spring, we will be catching up with Kenmore West alumni who were a part of the first ever International Baccalaureate graduating class (2013) at Ken-Ton. Check out our first alumni update below.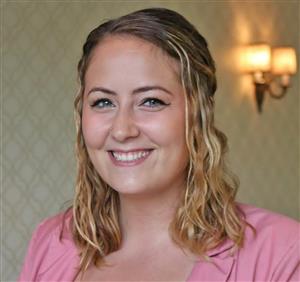 Name: Jacquelyn Sagasta
Graduation Accomplishments: Jacquelyn graduated with an IB Diploma and an Advanced Regents Diploma.
On why she decided to pursue the IB program, Jacquelyn said, "I loved the idea of getting a worldlier education, college preparation, and challenging myself. The program definitely helped me understand there was more to life than books and studying, and helped me learn to think critically and outside the box."
Her favorite part of the IB program was the CAS project, a requirement for all students in the IB Program. She helped start the "SAVERS" Club at Kenmore West, which is an environmental club that helps clean up garbage around areas of Kenmore and the Town of Tonawanda.
On what she remembers most about being in the IB program, Jacquelyn said, "We stayed up late to study a lot, but mostly I remember the friends and teachers that helped me through the stress and studying."
Outside of the IB program, Jacquelyn was a member of the National Honors Society, the National German Honors Society, and was a varsity letter swimmer. She was a part of the 200 individual medley relay team that won a Section title and still holds a Kenmore West pool record.
College Life: Jacquelyn attended Canisius College (Class of 2017) and graduated Cum Laude with a BS in Environmental Science and ABEC which stands for Animal Behavior, Ecology, and Conservation. A publication she wrote during her senior year earned her the Environmental Science Award for Excellence in Research. Outside of academics, Jacquelyn swam for the Golden Griffins and was a co-captain her senior year.
Post-College Journey: Following her graduation from Canisius, Jacquelyn joined the Peace Corps. She left for Senegal, West Africa in September 2017 and spent two years serving as an Agroforestry Volunteer. She remained in that role until the COVID-19 Pandemic forced her to evacuate. Upon returning to Buffalo, Jacquelyn worked as an environmental scientist for Tetra Tech, a consulting firm, before realizing she wanted to transition out of science. She got a job with a company called IREX (International Research and Exchanges Board) as a program associate. Less than a year later, she wound up in her current role with C-Quest Capital.
Where is she now? Jacquelyn is still at C-Quest Capital as an Operations Specialist for the Sub-Saharan Africa sub team. Her primary role is to coordinate the logistics of installing improved cookstoves in rural areas across West and East Africa. She trains overseas staff members, takes care of invoices and budgeting, travels, researches, and troubleshoots.
"In the rural areas we work in, people are used to cooking on open, wood-burning, three-stone fires. This is extremely inefficient, unhealthy, and dangerous," Jacquelyn said. "Our cookstove reduces the exposure of toxic smoke, reduces cook time and drudgery, and mitigates climate change."
Jacquelyn plans to remain at C-Quest indefinitely where she hopes to take on more responsibilities within the company.
She is one of the many former IB graduates who plan to attend this summer's 10-year reunion of the first ever graduating class.
Connect With Ken-Ton Schools