Kenmore-Town of Tonawanda UFSD
Providing our students with the supports, tools, and diverse opportunities needed to meet the challenges of an ever-changing world
Return to Headlines
Edison Students Give Back Through Links4Love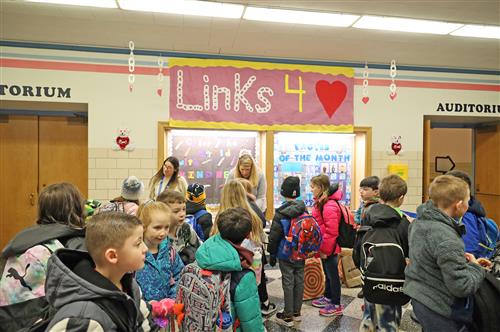 Students at Edison Elementary are learning the power of love and giving back to those in need. During the week of January 30th, students are taking part in the school's Links4Love initiative. The project, which started in 2017, began as a simple way for students to participate in the Jerry Starr Ken-Ton Schools' SleepOut without having to sleep out in the cold.
"The project teaches our children that when we all link together to help others, beautiful things can happen," said project organizer Linda Sternin. "Our Community Cares Team heads up this program to help teach children at a young age about kindness and compassion for all. We want the kids to feel pride in their ability to help others in our community, no matter their age."
Throughout the week, students and staff can buy a "link" for $.25 each. The links are strips of paper that are color coded for each grade level (K-4). Students take their purchased links back to their classroom, write their name on them, and the links are joined together with others in the classroom. At the end of the week, the chains are brought down to the front lobby and are strung together along the hallways.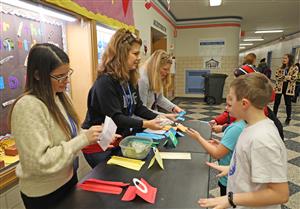 "It's a visual representation to show the children we can all join together to help others in our community," Sternin said. "The kids love to look for their part of the chain. One of the best parts of this is seeing the kids' faces light up when they walk into the building on Monday morning and see a beautiful and colorful display of their kindness and generosity."
It's a school-wide effort that also includes lessons in the classroom. Math RTI teacher Sarah Nowicki counts coins with her students that are working on money skills, while other teachers use science lessons about food chains to help the kids understand how everyone is connected.
"The student ambassadors make signs to hang up around the building. Students are encouraged to volunteer to do chores or ask their parents what they can do to earn money to buy a link. Some students bring in birthday money or money from their piggy banks," Sternin added. "The whole school gets involved with learning, going beyond doing a good deed."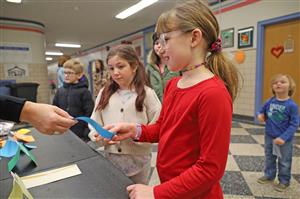 Since starting the project, Edison has raised more than $4,000 through Links4Love. All money raised goes to Ken-Ton's annual SleepOut, which in turn raises money for the Ken-Ton Closet and the Ken-Ton Family Support Center.
Connect With Ken-Ton Schools