Kenmore-Town of Tonawanda UFSD
Providing our students with the supports, tools, and diverse opportunities needed to meet the challenges of an ever-changing world
Return to Headlines
Kenmore West Student Spends School Year in Germany
One Kenmore West student is in the middle of a year-long opportunity that's giving her a first-hand look at life and education in another country. Junior Karli Schmitt has been a part of the Ken-Ton German language program since the 7th grade and is currently attending high school and living with a host family in Wecheselburg, Germany.
"This has been one of the craziest things I've ever done," Schmitt said. "I was fortunate enough to have had a lot of support from my family and friends, which has made it a lot easier, and it also helped that I've met so many wonderful people since."
The opportunity is thanks to a study abroad scholarship program called Congress-Bundestag Youth Exchange or CBYX. It's a dynamic and immersive exchange program jointly offered by the United States and German governments and is described as a crucial thread in the people-to-people ties between the two countries.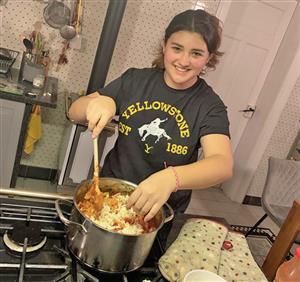 Only 250 students nationwide are selected to take part in the program and are completely sponsored by the two governments. Karli is the 3rd Ken-Ton student in the last five years to be awarded the scholarship (other recipients were Devyn Mogavero in 2017 and Laure Gradzewicz in 2019).
"The application process is very competitive. It takes a lot of dedication and maturity to get through the process," German language teacher Matt Gabel said. "This program is not for the average student. It requires a lot of courage and open-mindedness to walk away from literally everything you're familiar with in order to experience something new."
Schmitt first arrived in Germany in August 2022 and will be there through this July. Being abroad for such a lengthy period of time has been extremely beneficial for both Schmitt and the rest of the students in the Ken-Ton German program.
"I've grown to love the simple things in my time here, like going on walks to look for mushrooms, or the winding and hilly roads," Schmitt said. "This has taught me a lot and I've gotten to see and experience so much in such a short time. I am hoping to learn and see way more by the time I leave this wondrous country."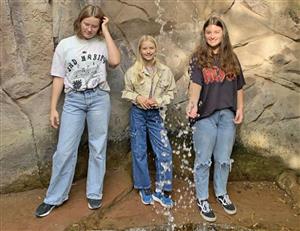 "We have never had a student go as an underclassman and return for their senior year," Gabel said. "I'm very excited for Karli to return next year and share her experiences with our German students. She's going to be a walking resource."
"I think that Karli will have more cultural experience to share with us and her classes," Kenmore West classmate Emilija Mirilovic added. "We will get to learn what life is like in Germany and I hope to learn more casual language skills from her and what the difference is living in Europe."
Later this spring, students from Kenmore East and West will be traveling to Germany for a two-week educational trip where they'll visit a total of three countries. They'll also be spending time and reconnecting with students from the Franken Gymnasium in Zulpich, Germany who visited the Ken-Ton District earlier this school year. The two schools have had an exchange program partnership for more than 15 years.
Connect With Ken-Ton Schools