Kenmore-Town of Tonawanda UFSD
Providing our students with the supports, tools, and diverse opportunities needed to meet the challenges of an ever-changing world
Return to Headlines
Big Picture Continues Giving Ways Through Bombas Partnership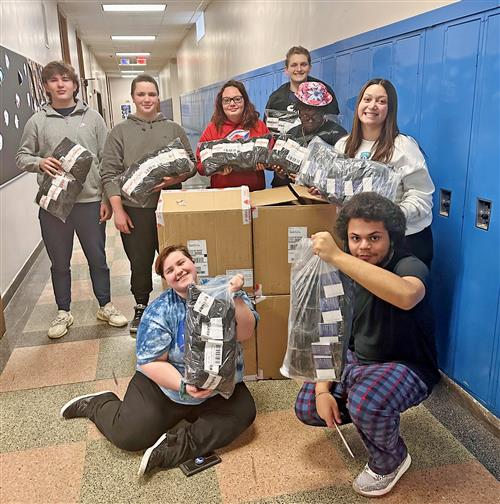 Ken-Ton Big Picture students are learning first-hand about the power of giving.
Since May 2019, Big Picture has been involved with a sock and apparel company called Bombas. The company's mission is to help those in need and has donated countless clothing items to charitable organizations across the U.S. through customer purchases. Bombas has 3,500 "giving partners" across the country who help strengthen their mission and Big Picture is one of them.
"I believe that the students show pride in giving these socks to other people," said Big Picture teacher aide Michelle Phillips. "It's a way for us to facilitate kindness in giving with our students without spending money."
Each year, Big Picture receives a shipment of socks which they use to help their students and families. They're also encouraged to share their supply with others in the community and in the past have assisted places like the Buffalo City Mission and PS 84 Health Care Center at ECMC.
"It's the joy of my day to see students show enthusiasm about giving to others," Phillips said. "They get excited about helping me distribute socks to their classmates, to their families at home, and eagerly offer to assist in other sock distribution activities."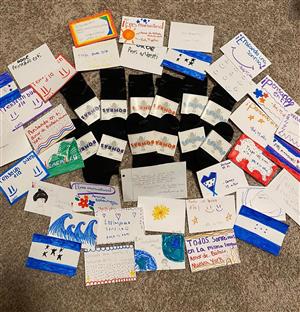 Most recently, the students have assisted with The Giving Tree in Kenmore that offers warm clothing to neighbors in need. They also expanded their generosity and sent several pairs of socks to an orphanage and nursing home in Honduras. With the help of Spanish teacher Casey Peglowski, students wrote positivity notes in Spanish.
Their love for sharing also remains inside the building where they've regularly distributed socks to classrooms of the GED program and English Language Learners.
"This has been mutually beneficial because the students are learning about other cultures while the English Language learners are getting to practice speaking English to our students," Phillips said. "This has been another enriching experience that has been possible because of our Bombas partnership."
Big Picture is scheduled to get another shipment of 5,000 socks later this school year. They're also on the list of future recipients of Bombas t-shirts and underwear.
Connect With Ken-Ton Schools