Kenmore-Town of Tonawanda UFSD
Providing our students with the supports, tools, and diverse opportunities needed to meet the challenges of an ever-changing world
Return to Headlines
Kenmore East's LEO Club Assists in "Home Again" Project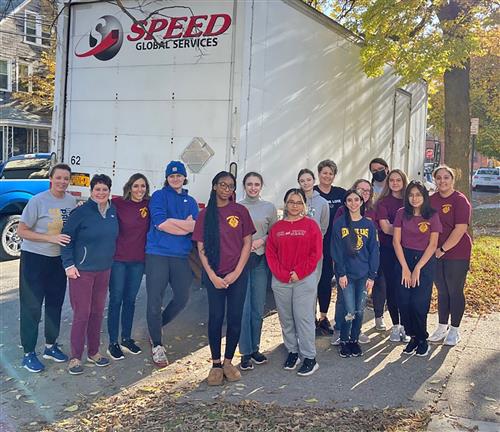 Members of Kenmore East's LEO Club have made another huge impact on our Western New York Community. The club, which takes part in several community service projects a year, recently teamed up with Journey's End Refugee Services for a "Home Again" project to assist and provide housing for a mother and her six children.
"It was such an awesome project for the kids to be a part of," said LEO Club co-advisor Janine Galante. "They had fun doing it, they worked together, and they really got to experience the whole thing from start to finish."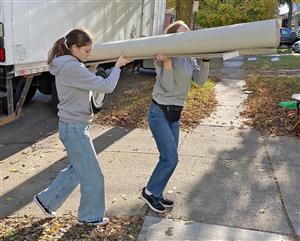 Work on the Home Again project began last spring when students began putting the word out about items they'd need to fill the house. The majority of the items collected came from Kenmore East staff who contributed things like toilet paper, silverware, towels, and even furniture.
"It was so rewarding for everyone to come together," Galante said. "It wouldn't have happened if everyone didn't give a little bit of support whether it was loading the truck, donating an item, or congratulating the kids on doing a great job."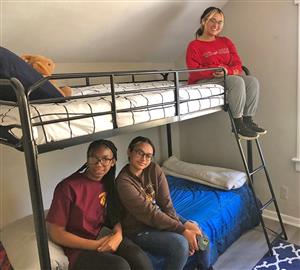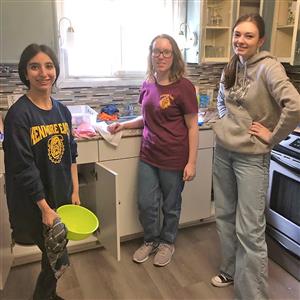 The items sat in storage all summer until move-in day on October 22nd. The LEO Club got to work at 9am and, over the course of five hours, cleaned the house, moved in the furniture, and created a living space for the family.
This was their second Home Again project since the club was formed around five years ago.
"Being with the LEO Club has taught me that even the little things we do can change someone's life," Club President Alondra Pacheco said. "The club has been very fulfilling for me and I've been glad to be a part of it from the start."
The LEO Club is involved in several service projects throughout the school year. Some of their upcoming projects include baking pies for Kenmore Meals on Wheels this Thanksgiving season and making Christmas crafts for local nursing homes.
Connect With Ken-Ton Schools