Kenmore-Town of Tonawanda UFSD
Providing our students with the supports, tools, and diverse opportunities needed to meet the challenges of an ever-changing world
Return to Headlines
Ken-Ton Accepts Chamber of Commerce Large Business Award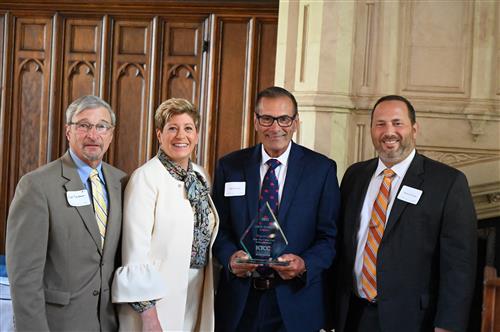 The Kenmore-Town of Tonawanda Union Free School District is the proud recipient of the Ken-Ton Chamber of Commerce Large Business of the Year. It's an award given to a business with a history of long-standing success and significant economic contributions to the region.
Superintendent Sabatino Cimato and Board of Education President Matt Chimera accepted the award on the school's behalf on Friday, September 16th.
With approximately 6,500 PreK-12 students, Ken-Ton School District is among the largest school districts in Upstate New York. With rich institutional traditions and a long and proud history going back more than 130 years, the district is known for its outstanding academic and elective programs. Ken-Ton is one of only two school districts in the eight counties of WNY to offer the rigorous International Baccalaureate (IB) Program, which is highly sought-after in college admissions across the globe. Both high schools also offer NYS-certified Career and Technical Education programs, the Project Lead the Way pre-engineering curriculum, and art and music programs that are considered among the best in the region. Ken-Ton is also known for its Big Picture Program, a non-traditional high school program and the only one of its kind in WNY. Ken-Ton has fostered a world-class teaching staff through an innovative framework of mentoring, coaching, and staff development.
Other winners included Ethos Performance Rehab (Entrepreneur of the Year), Butler's Wine & Spirits (Family-Owned Business Award), and Championship Martial Arts 716 (Small Business of the Year).
*The above photo is courtesy of Carl Gerace Photography
Connect With Ken-Ton Schools