Kenmore-Town of Tonawanda UFSD
Providing our students with the supports, tools, and diverse opportunities needed to meet the challenges of an ever-changing world
Return to Headlines
German Exchange Student Teacher Makes Memories at Ken-Ton
It's been two months since Stefania Bua, a German exchange student teacher, left the Ken-Ton School District to go back home. But her impact, kindness, and knowledge will long be felt in Samantha Hahn's 5th grade classroom at Franklin Middle School.
"The biggest thing the students took away from having Stefania in our class was to respect and value another person's culture and language," Hahn said. "If there is a committee for travel abroad or earlier language classes, I think all of my students would join to advocate for this!"
Bua hails from Cologne, Germany and is currently working toward her Master's Degree. In order to fulfill the degree's requirements, she had to immerse herself in an English-speaking country for 12 weeks. She became an official part of Hann's classroom back in February.
"Her very first day she brought students a German treat to enjoy while she introduced herself," Hahn said. "She was shocked to see a classroom so warm, inviting, and calming. She showed us pictures of a traditional classroom in Germany, which was not as "personalized" as classrooms here in the United States."
From the moment she walked in the door, Bua became an important asset in Hahn's classroom. With the ability to speak five different languages (English, German, Italian, Dutch, and French), she was able to instantly connect and relate to students with a language barrier.
She also attended and observed several language classes throughout the Ken-Ton School District, which offers world language education in three languages - French, Spanish and German. This also includes Advanced Placement (AP) and International Baccalaureate (IB) courses as well as exchange partnerships.
"In the middle of Stefania's time in my classroom, two students were expected to join our class who spoke very little English," Hahn recalled. "Before they started, my students were renting translation/bilingual dictionaries to help these two students! My heart was so happy to see this because it was unprompted and truly showed their compassion."
As the students educated Bua about historical events in the U.S., like the Jim Crow Era, Bua returned the favor.
Part of Hahn's lesson plan this past spring involved reading a historical fiction text, Number the Stars, which tells a story of Denmark's resistance to Nazi Germany. Bua was able to give further insight into the events years ago and how they impact her life today.
"She was able to teach the class many facts about Germany during WWII and shared photos of her time visiting concentration camps in Europe," Hahn said. "The biggest takeaway my students had from Stefania was how different cultures can be, and that the world would be so boring if every person and every culture was the same."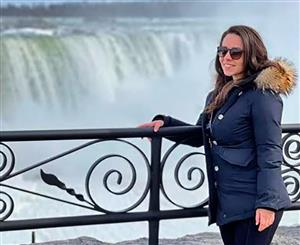 While Bua is now back home, her presence has made a long-lasting impact on the students she became friends with. Hahn says they're already making plans to video chat and write to her in the many years to come.
"Many of my students were crying on Stefania's last day," said Hahn. "She wrote them a beautiful and sentimental letter stating how she believes in each of them and knows that they will do amazing things in their lives."
Outside of the classroom, Bua immersed herself in the Buffalo community. She attended a Buffalo Bandits game, visited tourist spots like "Shark Girl" and Niagara Falls, and ate plenty of Buffalo food staples.
Connect With Ken-Ton Schools