Kenmore-Town of Tonawanda UFSD
Providing our students with the supports, tools, and diverse opportunities needed to meet the challenges of an ever-changing world
Return to Headlines
KT Athletic Director Earns National Recognition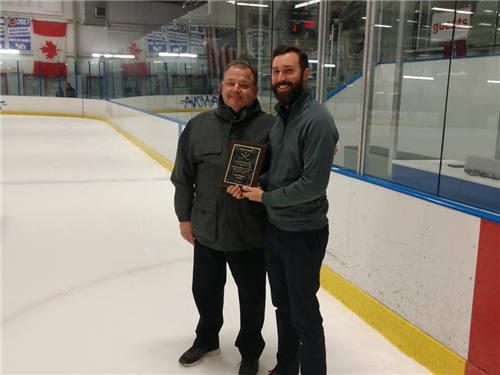 Brett Banker, Ken-Ton School District Athletic Director, left, is pictured here receiving the Dr. James Rusin Memorial Award in 2020.
The Ken-Ton School District was proud to learn that its Athletic Director, Brett Banker, will be awarded the National Interscholastic Athletic Administrators Association (NIAAA) Award of Merit in March. This is the highest distinction that can be presented by the organization representing athletic administrators across New York State.
"The recipient is chosen by the NYSAAA and is recognized nationally based on the candidate's body of work locally, at the state level, and nationally," NYSAAA announced on February 7th.
Mr. Banker has served as the Ken-Ton School District's Director of Health, Physical Education, Recreation and Athletics since 1992. In addition to coordinating nearly 50 sports in Ken-Ton Schools, Mr. Banker oversees all physical education programs, the health education curriculum, school nurses/medical operations, facilities rentals, and wellness initiatives across the district.
Mr. Banker is among the most distinguished high school athletic directors in the nation. In 2021, the NIAAA chose Mr. Banker to be one of only 30 athletic directors out of approximately 12,500 nationwide to spend the year in the NIAAA Cohort Leadership Program. Two years earlier, the NIAAA honored him for earning his certification as a Master Athletic Administrator, making him one of a very small elite group of interscholastic athletic administrators to attain this professional level. He also served as President of the NYSAAA, which is the NIAAA affiliate organization representing athletic directors across New York State.
Locally, Mr. Banker has always been extremely involved at the league and section level. He currently serves as President of Section VI and is the only athletic director in history to serve three terms as Section VI President.
Mr. Banker will be presented with the NIAAA Award of Merit at the annual NYSAAA Conference on March 17th. Read more about Mr. Banker's career here.
Connect With Ken-Ton Schools