Kenmore-Town of Tonawanda UFSD
Providing our students with the supports, tools, and diverse opportunities needed to meet the challenges of an ever-changing world
Return to Headlines
KW Boys Hockey Wins Section VI Championship in Thrilling Fashion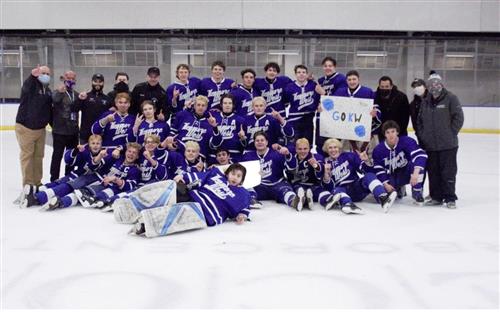 Source: Section VI Hockey @wnyfedhockey
https://twitter.com/wnyfedhockey/status/1376574328309960706?s=20
Congratulations to the Kenmore West Boys Hockey Team which won the Section VI Small Schools Championship in exciting fashion on Saturday, March 27 with a thrilling 2-1 double-overtime victory over Starpoint!
https://www.wivb.com/sports/ken-west-wins-section-vi-tops-starpoint-2-1-in-2ot/
The Blue Devils entered the playoffs seeded No. 3. They defeated No. 6 seed Amherst 5-4 in triple overtime, the first in what would become an incredible series of overtime playoff victories.
Next came Williamsville South and another overtime victory, the Blue Devils winning 3-2 and securing their fourth Final Four appearance in five years.
On Thursday, March 25, the team faced No. 1 seed Grand Island with a trip to the Championship on the line. They overcame a 4-1 deficit going into the third period to once again force the game into overtime, ultimately overcoming Grand Island 5-4.
https://twitter.com/i/status/1375428509150154752
On Saturday, they faced Starpoint in the Section VI Small Schools Championship at the HarborCenter. The game was tied up 1-1 at the end of the third period. It stayed tied up 1-1 until, with just 54.7 seconds remaining in the second overtime period, senior defenseman P.J. Abbott won game-winning goal. Goalie Max Pelino was named MVP with 35 saves against the tough Starpoint offense.
Congratulations to the team, Coach Robert Roszak, and the entire coaching staff for winning the Blue Devils' first Section VI Championship since 2006!
https://buffalonews.com/sports/high-school/another-ot-another-victory-as-kenmore-west-wins-section-vi-small-schools-title-in-boys/article_7c180bac-8f5f-11eb-9c1b-ff470c9b076c.html
Connect With Ken-Ton Schools