Kenmore-Town of Tonawanda UFSD
Providing our students with the supports, tools, and diverse opportunities needed to meet the challenges of an ever-changing world
Return to Headlines
Early Kenmore East Graduate's Dreams Come True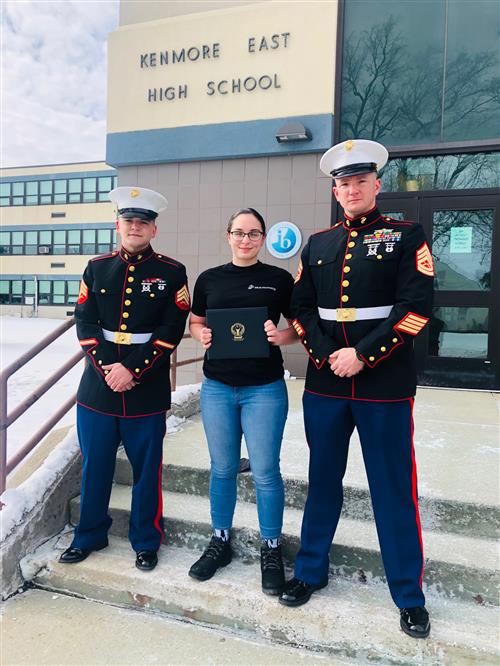 Madison Landseadel with Station Commander Shawn Santo and Staff Sargent Richard Croff.
For Madison Landseadel, a recent graduate of Kenmore East High School, her lifelong dream of becoming a Marine is coming true. After graduating early in January, Madison is officially entering the U.S. Marine Corps after serving as a Squad Leader in the Delayed Entry Program since July.
Madison and her family moved from West Seneca to Ken-Ton in 2016 and she has been at Kenmore East High School ever since. She has maintained an overall GPA of 98.5%, earning her a place in the top 10% of the Class of 2021 and the National Honor Society. Madison has been active at Kenmore East as well, performing in the 2019 musical "The Wedding Singer," assisting with Gr. 8-9 Chorus during her free period, and taking part in many school-wide activities such as Join the Winners and the Wing Ding winter festival. She officially graduated a semester early on January 29, 2021.
In July 2020, Madison was sworn into the U.S. Marine Corps Delayed Entry Program as a Poolee (an official prospective recruit). The Delayed Entry Program is designed to prepare recruits for the rigors and challenges ahead. For demonstrating motivational and leadership qualities, Madison was made a Squad Leader, leading a squad composed of seven male recruits. For demonstrating growth as a Poolee, Madison was also chosen for the Warrior Board by the station commander. Those selected for this distinction are considered to be the best of the best in categories such as physical fitness and motivational ability.
Now, she is entering the Marine Corps as a full recruit, fulfilling a lifelong dream. She arrived at the Marine Corps Recruit Depot Parris Island in Port Royal, S.C. on Tuesday, March 23 to report for recruit training.
"This has been a dream of Madison's since sixth grade, and she had never wanted to do anything else. She was born to be a Marine," said her mother, Nicole Bell. "Even in the tough times we are in, dreams do come true."
Connect With Ken-Ton Schools