Kenmore-Town of Tonawanda UFSD
Providing our students with the supports, tools, and diverse opportunities needed to meet the challenges of an ever-changing world
Return to Headlines
Ken-Ton Honors Newest Board-Certified Teacher, Susan Hirsch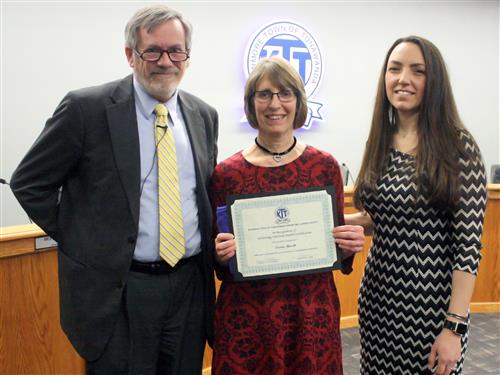 Superintendent Steve Bovino and Board of Education President Dr. Jill O'Malley, far right, honor Edison Elementary first-grade teacher Susan Hirsch, center, for earning her Board Certification at a Board of Education meeting on Feb. 11.
In February, the Ken-Ton School District honored Edison Elementary School first-grade teacher Susan Hirsch for earning her National Board Certification, which is considered to be the gold standard in teaching.
Hirsch has joined an ever-growing list of educators in the Ken-Ton School District who have earned this distinction. In fact, Ken-Ton is among the districts in New York State with the highest number of National Board-Certified teachers, and has one of the highest percentages – if not the highest percentage – of its teaching staff who have earned this distinction in the western region of New York State.
A total of 24 Ken-Ton School District educators have earned their Board Certification as of the 2019-20 school year, and although some have retired or have been elevated to leadership positons at other school districts, most are still teaching in Ken-Ton Schools.
Helping Ken-Ton teachers navigate the certification process are two of the district's board-certified teachers, ELA instructional coach Kathleen Reiser and Kenmore West math teacher Amy Klose. They have been trained in candidate support and are helping educators in Ken-Ton and other districts achieve National Board Certification with support from Ken-Ton's Staff Development Center and the New York State United Teachers. In this way, Ken-Ton has become a hub for National Board Certification in Western New York.
Board certification, awarded by the National Board for Professional Teaching Standards, is considered to be the gold standard for teaching. It is a performance-based peer-review process similar to board certification in medicine. Earning National Board Certification is a rigorous process which includes written entries, exams, and video submissions, and can take one or two years. The candidate's subject area knowledge, evidence of differentiation in instruction, video recordings of classroom instruction, and evidence of being an effective and reflective practitioner of teaching practices are the major components of the certification process.
Hirsch was recognized for her achievement by Superintendent Steve Bovino and Board of Education President Dr. Jill O'Malley at a Board of Education meeting in February. In addition to Hirsch, other Ken-Ton educators with National Board Certification include:
Robyn Brydalski (Franklin Elementary)

Jeanette Costello (Hoover Middle)

Penelope DePasquale (Hoover Middle)

Renee L. Freda (Hoover Middle)

Heather Gardner (Hoover Elementary)

Larissa Gramza (Franklin Elementary)

Nicole Hanagan (Kenmore East)

Laura Howse (Kenmore West)

Joanna Hourihan (Hoover Elementary)

Michael Ihde (Kenmore East)

Amy Klose (Kenmore West)

Rachel Newman (Edison Elementary)

Kathleen Reiser (ELA Instructional Support Specialist)

Mary Ricotta (Franklin Middle)

Tracy Wilson (Franklin Elementary)

Jeanette Yoder (Franklin Middle)

Susan Busch (retired)

Marilyn Drnevich (retired)

Patricia Kosis (retired; former principal)

Nancyann Militello (retired)

Lisa Parks (retired)

Carmelina Persico (former principal, now an administrator at West Seneca CSD)

Valerie Tundo (retired)
Connect With Ken-Ton Schools