Kenmore-Town of Tonawanda UFSD
Providing our students with the supports, tools, and diverse opportunities needed to meet the challenges of an ever-changing world
Return to Headlines
KW Alum Named to USA Rugby Sevens Player Pool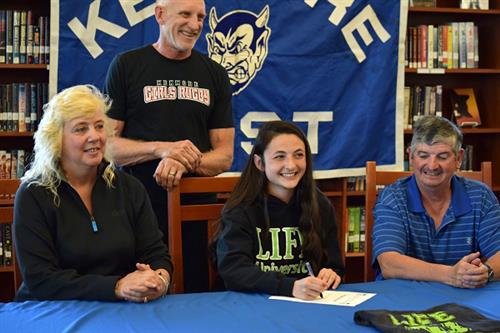 Kenmore West High School graduate and Life University rugby player Autumn Locicero has earned a place in the player pool for USA Rugby Sevens Women's Team. This makes Autumn eligible for the team which is comprised of some of the top women's sevens players in the country.
Rugby Sevens is a popular fast-paced variant of rugby in which teams are comprised of seven players playing seven-minute halves, whereas in regular rugby teams are comprised of 15 players with 40-minute halves.
Autumn graduated from Kenmore West High School in 2018 as Secretary of the Class of 2018 and a member of the National Honor Society. She had been a competitive dancer since the age of 3, and astoundingly, she never played rugby until her junior year of high school. It was then that she joined the Kenmore Rugby Girls Team, which is comprised of players from both Kenmore East and Kenmore West. The following summer, she competed as part of Queen City Rugby and the WNY Lightning programs.
Autumn, the team's fullback, went on to become team captain her senior year. In May 2018, she was honored after she signed her intent to compete with the Life University Eagles, a Division I rugby program.
Autumn is now in her junior year at Life University where she is studying to become a chiropractor.
Read more about Autumn here from WNY Athletics:
https://wnyathletics.com/article/locicero-busting-her-moves-on-and-off-the-field
Connect With Ken-Ton Schools