Kenmore-Town of Tonawanda UFSD
Providing our students with the supports, tools, and diverse opportunities needed to meet the challenges of an ever-changing world
Return to Headlines
Wild West-Themed Boosterthon, Parade & Unity Day at Lindbergh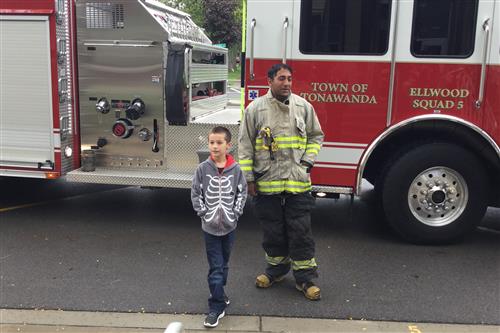 Lindbergh Elementary kicked off the month of October with many special events. Curtis Hassel, a second grader, was the September PBIS winner. He won a ride home in a fire truck on October 3. Curtis and was sent off with loud cheers from his classmates and lots of sirens and horns. Thank you to the Ellwood Fire Department for helping with this extra special prize.
The following two weeks were filled with Western fun. The PTA held its annual Boosterthon from October 17-18, and this year the theme was The Wild West. Students enjoyed a kick-off assembly, daily scavenger hunts and challenges that earned them prizes, and ended with a 30- to 35-lap Fun Run. Students and their families collected pledges from all 50 states and earned almost $36,000. It was an exciting and very successful event that Lindbergh Elementary will never forget.
On October 23, Lindbergh dressed in orange to celebrate Unity Day for Bully Awareness. Each grade enjoyed a magic show assembly with an anti-bully theme, practiced being a good friend, and had lessons from our school counselor to promote good citizenship.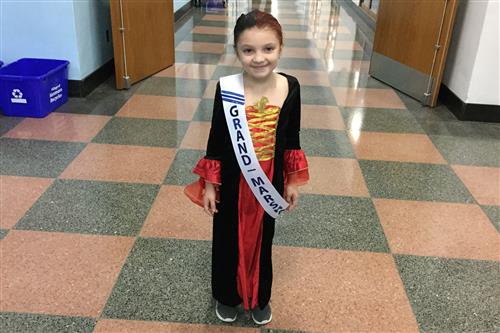 The month ended with an amazing Halloween Day parade. Many of the students dressed as a storybook character, marched around the school to show them off, and celebrated with their classes. The October PBIS winner for our students in kindergarten through second grade was the Grand Marshal. The Grand Marshall, Kaylee Nelson, a first grader, lead the Storybook Character Parade, and wore a Grand Marshal banner. The third- and fourth-grade PBIS winners were Faith Weir, Ella Kennedy, William Grunzwig and Sean McGillicuddy. These students will work with Mrs. Strong and Mr. Holden to create Workout Wednesday Videos that will be shared on morning announcements.
Connect With Ken-Ton Schools