Kenmore-Town of Tonawanda UFSD
Providing our students with the supports, tools, and diverse opportunities needed to meet the challenges of an ever-changing world
Return to Headlines
KW Senior Represents NYS at Student Medical Congress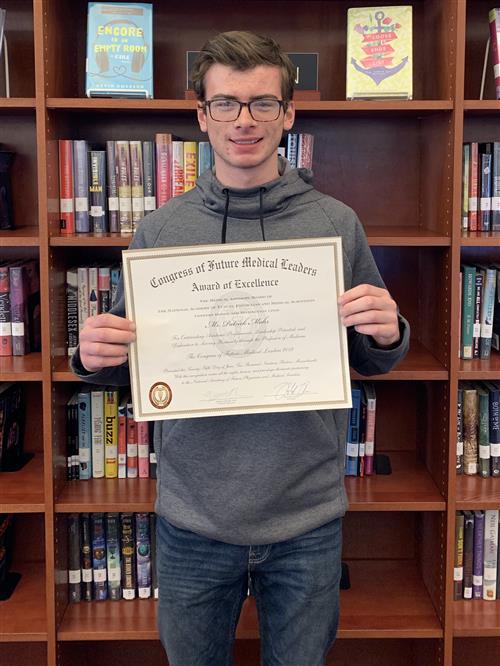 Patrick Mohr, a senior at Kenmore West High School, was recently presented with an Award of Excellence from the National Academy of Future Physicians and Medical Scientists after representing New York State as a delegate to the Congress of Future Medical Leaders.
The Congress is an honors-only program for high school students who want to become physicians or go into medical research fields. The purpose of the event is to honor, inspire, motivate, and direct the top students in the country who aspire to be physicians or medical scientists, to stay true to their dream and, after the event, to provide a path, plan, and resources to help them reach their goal.
Patrick was chosen to represent New York State during the three-day Congress based on his academic achievement, leadership potential, and determination to serve humanity in the field of medicine. His nomination letter had been signed by Dr. Mario Capecchi, winner of the Nobel Prize in Medicine and the science director of the National Academy of Future Physicians and Medical Scientists.
During the three-day Congress, Patrick joined students from across the country and heard Nobel Laureates and National Medal of Science Winners talk about leading medical research; received advice from Ivy League and top medical school deans on what to expect in medical school; witnessed stories told by patients who are living medical miracles; was inspired by fellow teen medical science prodigies; and learned about cutting edge advances and the future in medicine and medical technology.
Participants watched live surgery and had a chance to question the surgeon in real time. They were also taught by some of the greatest living minds in medicine, winners of the world's most prestigious international prizes, such as:
Sir Richard Roberts, Ph.D., Winner, 1993 Nobel Prize in Physiology or Medicine;

Rakesh Jain, Ph.D., Andrew Werk Cook Professor of Tumor Biology, Harvard Medical School, Director of the Edwin L. Steele Laboratory for Tumor Biology, Massachusetts General Hospital, and Recipient of the 2013 National Medal of Science; and

Sidney Altman, Ph.D., Winner, 1989 Nobel Prize in Chemistry.
Participants were guided and mentored by prominent medical school academic leaders, including:
Wiley Souba, M.D., Dean of Dartmouth University's Geisel School of Medicine (2010-2014); and

Stephen Ray Mitchell, M.D., MBA, Dean for Medical Education at Georgetown University.
Participants were also inspired by young geniuses who are leading the future of medicine, including:
Jack Andraka, 2012 Intel Science and Engineering Fair Grand Prize Winner, breakthrough inventor, scientist and cancer researcher;

Shree Bose, 2011 Google Science Fair Grand Prize Winner;

Gitanjali Rao, 2017 Discovery 3M Young Scientist Challenge Winner; and

Olivia Hallisey, 2015 Google Science Fair Grand Prize Winner.
Connect With Ken-Ton Schools