Kenmore-Town of Tonawanda UFSD
Providing our students with the supports, tools, and diverse opportunities needed to meet the challenges of an ever-changing world
Return to Headlines
Holmes Students Create 'Giant Sturgeon' From Shopping Bags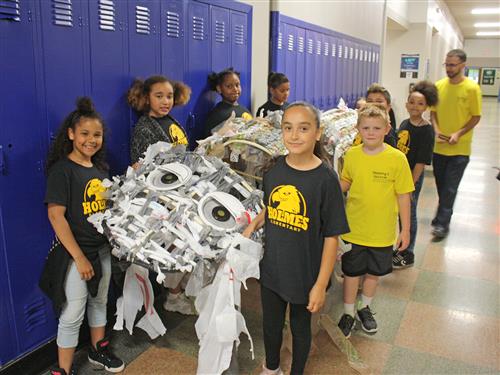 From left, Sofea Walker, Jayla Stewart, Jaela Cummings, and Cenaka Scott, and Jenialee Camacho-Lebron, Hunter Petrea, Dylan Teed, Cailaiana Fleming, and science teacher Noah Fuchs.
At a recent Board of Education meeting, students and staff from Holmes Elementary School unveiled an extraordinary creation that was the product of a months-long collaboration in science and art: a giant sturgeon several feet in length made from chicken wire and plastic shopping bags. The project not only combined science and art instruction but also promoted environmental awareness, creativity, and teamwork.
Leading the effort were Holmes Elementary science teacher Noah Fuchs and Holmes Elementary art teacher Diane Schaefer. In November, they attended a session entitled "I Am the Solution to Plastic Pollution" at the Buffalo Zoo, which was organized by the Zoo, Erie 1 BOCES, and Buffalo Museum of Science. The session focused on ways to promote pollution prevention through art and science. One lesson they brought back to their students: single-use plastics, including plastic bags, represent a significant pollution problem in Lake Erie and Lake Ontario.
"We started with the question: What can happen when science and art work together to solve a problem?" Schaeffer said.
The average American family accumulates an estimated 1,500 plastic bags a year, and with the guidance of Fuchs and Schaeffer, the students embarked on a project to put a significant number of these plastic bags to good use: using them to create a work of art. They began by brainstorming ideas and sketching out potential designs, and that's how they came up with the idea of a sturgeon.
"We landed on a giant sturgeon, kind of like a Chinese New Year dragon that would be woven with plastic bags through chicken wire, and it would be created by the students of the school," Schaeffer said.
"Around the holiday time we started collecting all the plastic bags," Fuchs said. "Those plastic bags had to be organized based on color, then we had to flatten them out, slice them, and then tie the bags to make the strips that would be woven into the chicken wire. The student really took a lot of ownership over that. They did a lot of the prep work."
The giant sturgeon was only one part of a broader collaboration between art and science. In art class, students made "(G)litter Bugs" out of plastic bags, anti-pollution creatures, plastic bag vaccuum cleaner bugs, and more. And in science class, kindergarten students were introduced to topics such as water pollution, landfills, and recycling, and first-graders learned about the needs of living things, while fourth-graders completed research on plastic pollution and the sturgeon.
"The collaboration created connections between science and art," Schaeffer said.
You can see video of the presentation here:
https://youtu.be/oALokveLRIk?t=12m45s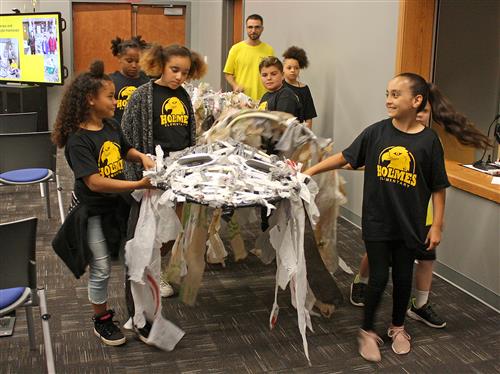 Connect With Ken-Ton Schools