Kenmore-Town of Tonawanda UFSD
Providing our students with the supports, tools, and diverse opportunities needed to meet the challenges of an ever-changing world
Return to Headlines
Kenmore East FACS Classes Compete in Cookie 'Throwdown'
Kenmore East High School Assistant Principal Trevor Brown recently shared his love and knowledge of baking with Kim Schildwaster's Foods II Family & Consumer Sciences classes while participating in a "Chocolate Chip Cookie Throwdown."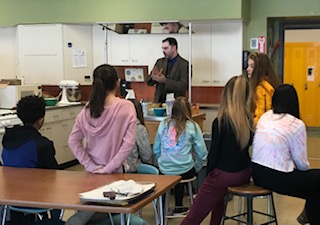 Brown prepared multiple batches of cookie dough while discussing his success and failures in baking, even sharing his secret ingredient.
Each group, including Brown, discussed the qualities they prefer in a chocolate chip cookie and how they could achieve that cookie through manipulation of the ingredients and ratios. Knowledge of ingredient functions and properties helped the students create their perfect cookie. Elliyana Olivera's group changed the ratio of brown to white sugar from 1:1 to 2:1 to create a chewier cookie that retained more moisture. One group added an egg yolk and more chocolate chips to change the texture and density of their cookie. Both were deemed to be a success and they placed first and second respectively.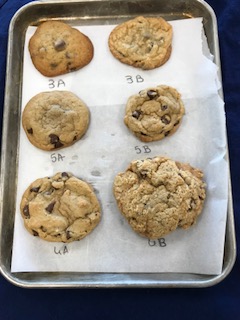 Staff came to judge the contest, listen to students' presentations, and ask questions about their process of selecting a recipe and making changes.
The students are studying the New England food region which is where the chocolate chip cookie was invented by Ruth Wakefield during the late 1930s. They continue to study food of the region and are collecting sap to boil into syrup after correctly identifying maple trees on the school grounds. The science, math, and historical components of the class allow students to apply the knowledge from their core classes in a fun and exciting atmosphere while build life skills.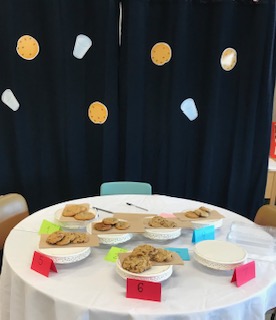 Connect With Ken-Ton Schools