Kenmore-Town of Tonawanda UFSD
Providing our students with the supports, tools, and diverse opportunities needed to meet the challenges of an ever-changing world
Return to Headlines
For 14th Time in 16 Years, Ken-East Wins at Model UN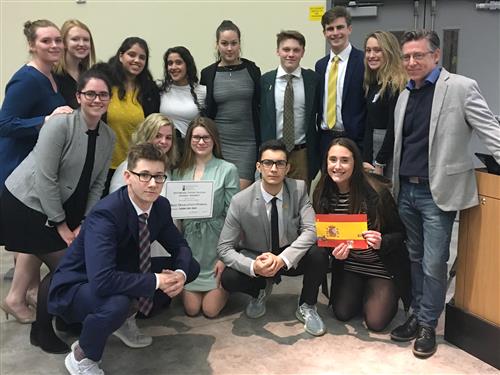 For the 14th time in 16 years, the Kenmore East High School Model United Nations Team won the top honor at the Western New York Model UN competition: Best Overall Delegation.
The competition included more than 600 students from more than 30 different schools in the Western New York region representing 54 different countries. Issues ranged from climate change to conflict in the Middle East.
The team was comprised of students Jessica Fink, Shareen Abdallah, Alex (AJ) Neubert, Emily Davidson, Jenna Butler, Mayan Karpie-Jones, Hannah Crittenden, Kayla Croom, John O'Connell, Bella Vito, Hailey Murdie, Bridget Reilly, Paul Guszkowski, and Nicolas Coburn, and is coached by Kenmore East International Baccalaureate (IB) teacher Christopher Knab.
"To win takes a great deal of effort from the students," Knab said. "They commit to researching the world's pressing issues and mastering United Nation's committee procedures, diplomacy, and debate."
Students split up, working in small teams in different rooms each of which represents a different committee. Schools are rated in each room and overall based on their contributions to the discussions as they debate and amend resolutions tackling some of the most important issues facing the world today.
To be successful, students must come prepared with a thorough understanding of the country they are representing and the positions it would take as well as the issues that will be debated and parliamentary procedure. They also need to be able to think fast on their feet, interact with peers, and speak convincingly and compellingly.
The Model UN competition is organized by the International Institute of Buffalo and University at Buffalo. Over the past 16 years, Kenmore East has won the competition as a variety of countries, from Gabon to Portugal. This year, the school represented Spain.
Connect With Ken-Ton Schools