Kenmore-Town of Tonawanda UFSD
Providing our students with the supports, tools, and diverse opportunities needed to meet the challenges of an ever-changing world
Return to Headlines
Ken-West Students Place 1st, 2nd at WNY Shakespeare Competition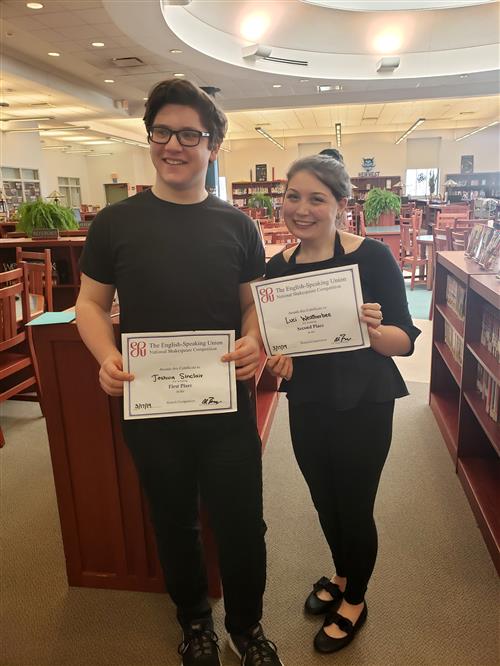 Josh Sinclair and Luci Weatherbee
Both the winner and runner-up in the 2019 Regional Shakespeare Competition are Kenmore West High School students.
Competing against students from high schools across Western New York, Kenmore West senior Josh Sinclair won this year's competition, and junior Luci Weatherbee placed second for the second year in a row.
"They represented Theatre West beautifully," said Kenmore West theater teacher Diana Gruninger. "This is really a tremendous honor. I couldn't be more proud of our kids."
As the first-place winner, Josh has earned an all-expense-paid trip to New York City where he will be performing at Lincoln Center in the national Shakespeare competition against students from around the country. His trip will include educational workshops at Juilliard as well as sightseeing and a Broadway show. And for the second year in a row, as the second-place winner, Luci will be the Regional Alternate for the national competition.
The event was sponsored by the Niagara/Frontier Buffalo branch of the English-Speaking Union of the United States, an organization dedicated to promoting debating and public speaking skills, student exchange, and the effective use of the English language.
The competition encourages students to develop their communication skills and appreciation of the power of language and literature while also supporting educators in their English language arts and Shakespeare instruction and curricula.
Connect With Ken-Ton Schools