Kenmore-Town of Tonawanda UFSD
Providing our students with the supports, tools, and diverse opportunities needed to meet the challenges of an ever-changing world
Return to Headlines
Students Participate in Collaborative Bioinformatics Project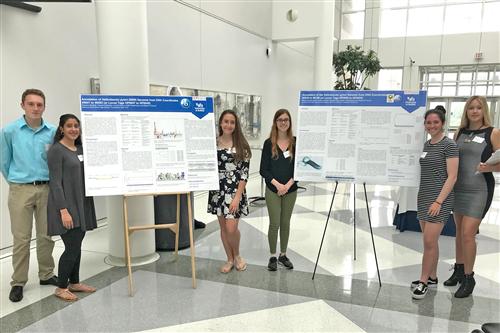 Six Kenmore East High School students participated in a research project this year to develop better ways to teach bioinformatics through the use of hands-on, state-of-the-art bioinformatics tools and create awareness of careers in science, technology, engineering and mathematics (STEM).
Participating were International Baccalaureate (IB) Biology students Mayan Karpie-Joines, Autumn Reed, Bridget Reilly, Shareen Abdallah, Hannah Crittenden and Lennon Greco, who worked in conjunction with science teachers Robert O'Connor and Rolfe Freidenberg as well as Dr. Stephen Kroury of the University of Buffalo Department of Biotechnical and Clinical Laboratory Sciences.
This project trained students in GENI-ACT (Genomics Education National Initiative Annotation Collaboration Toolkit), an innovative technology experience for students which includes a "hands-on" cyber-learning approach, to increase knowledge of bioinformatics and allow them to gain experience with bioinformatics software for classroom use.
The project expanded their understanding of basic bioinformatics and the scientific process through the use of GENI-ACT.
The project began in the fall as students were assigned genes to annotate, and they worked through modules to complete the program. The finished product was sent to UB to be professionally produced, and the students discussed their research with others from around Western New York and professors from UB at a capstone event at UB in May.
Connect With Ken-Ton Schools