Kenmore-Town of Tonawanda UFSD
Providing our students with the supports, tools, and diverse opportunities needed to meet the challenges of an ever-changing world
Return to Headlines
Artist Behind Monumental "Alice in Wonderland" Sculpture Coming to Ken-Ton & Buffalo Lab

The world is celebrating the 150th anniversary of Lewis Carroll's "Alice in Wonderland," and a nationally known artist, sculptor and author is bringing local students and artists into the celebration with her work on a one-of-a-kind monumental bronze sculpture capturing the iconic Mad Hatter's tea party.
Bridgette Mongeon, a native of the Ken-Ton area, has been commissioned by the Rubenstein Foundation in Texas to create a monumental sculpture that will include an eight-foot-tall Mad Hatter, Alice, and March Hare in attendance. There will also be plenty of space for children and adults to join the characters at the table for a picnic and the most curious of dining experiences.
On Sept. 30, during a visit to Western New York, Mongeon will engage art students at Kenmore West High School in a cross-curricular educational experience that combines art, literature, technology, engineering, math and science. She has also been invited as a guest lecturer for adults interested in learning and jumping down the rabbit hole of art and technology during a visit to the Buffalo Lab, a community workshop space at The Foundry, located at 298 Northampton St., Buffalo, NY 14208, beginning at 7 p.m. on Thursday, Oct. 1.
Mongeon combines both traditional sculpting processes with cutting edge computer and printing technology. A key part of her work is 3D modeling and 3D printing, an important subject for today's art students at Kenmore West High School who benefit from the school's advanced art programs and imaging technology.
Students in art teacher David Rogalski's classes at Kenmore West will also have the chance to contribute toward the highly anticipated sculpture. Students will use 3D scans of antique teacups and tackle the extremely challenging task of enhancing the intricate decorative floral designs in a 3D environment using a software program called Mudbox. The sculptures will then be 3D printed and added to the scene before Mongeon sends the sculpture to Shidoni Foundry in New Mexico for bronze casting.
Mongeon is known for her bronze sculptures of children, as well as entertainers such as B. B. King, Willie Nelson and Bill Monroe. She has been commissioned to create school mascots such as the larger-than-life Prairie View Panther for Texas' Prairie View A&M University and a 15-foot tiger for Grambling State University in Grambling, La. She will also soon be creating a sculpture of Neil Armstrong commissioned by Kindness Without Limits Education as a gift to Russia.
Mongeon's work on the tea party sculpture coincides with the release of her new book, "3D Technology in Fine Art and Craft: Exploring 3D Printing, Scanning, Sculpting, and Milling." In the book, she describes the digital and traditional processes that she and other artists all over the world are using in their art. She will incorporate these same processes in her sculpture of the Mad Hatter scene, using tools such as the Next Engine 3D Laser Scanner and digital sculpting programs such as Mudbox and ZBrush.
"You could say that Alice no longer needs mushrooms, cakes or elixirs to grow," Mongeon said. "These tools help me generate a digital model that can then be crafted using computer numerically controlled (CNC) milling machines. Alice and her friends grow to eight feet tall with technology. I then carve on the large foam pieces, adding a fine layer of clay and more detail before making molds that will be shipped to Shidoni Foundry."
The installation and unveiling of this sculpture in Evelyn's Park in Bellaire, Texas, a suburb of Houston, is scheduled for late 2016. Guests can try to find more than 150 hidden elements, including characters such as Humpty Dumpty and the White Queen, which will be carefully and covertly positioned throughout the scene. Many of these smaller items the artist will create using these digital tools. The highly anticipated sculpture is expected to make the park a tourism destination for visitors of Houston and lovers of the works of Lewis Carroll.
Just as in the story, the sculpture titled "Move One Place On" beckons visitors to change places upon their visit. Mongeon hopes visitors will develop a tradition of shouting the proclamation and change places at the bronze table as they visit the sculpture.
The sculpture has additional connections to Western New York. The likeness of the artist's mother, the late Barbara Ingersoll, was used for the hidden White Queen. For much of her life, Ingersoll was involved with a ministry that helped hurting women in Western New York and Canada. Also, the inspiration for the Hatter comes from another family member, the late Jack Rzadkiewicz, a postal worker and Buffalo native. Finally, the likeness of the artist's adult daughter, Christina Sizemore, who lives in Houston but works for Western New York's Feel Rite Fresh Markets, was used for Alice.
"I love to have this personal and intimate family connection in the piece," Mongeon said.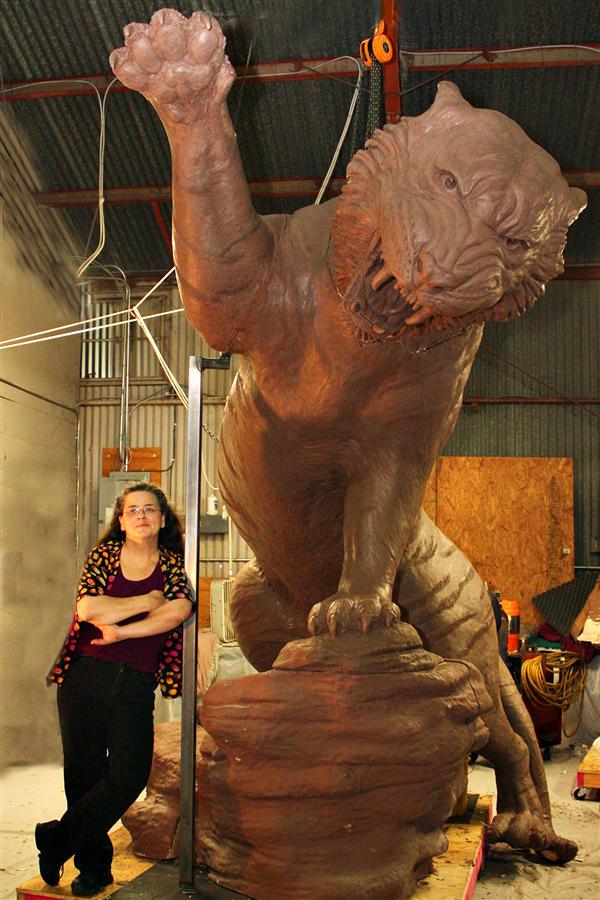 Bridgette Mongeon
Connect With Ken-Ton Schools