Franklin Elementary
Providing our students with the supports, tools, and diverse opportunities needed to meet the challenges of an ever-changing world
Return to Headlines
School Counselor Introduces Elementary Students to Mindfulness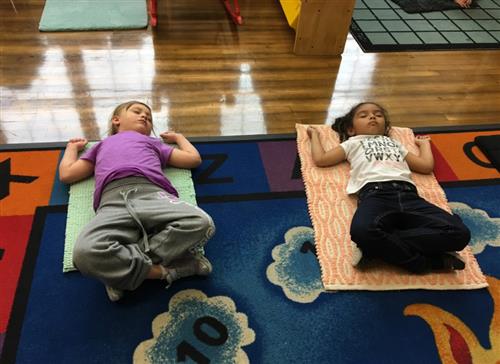 The benefits of practicing mindfulness have been understood for centuries – improved focus, well-being, and self-control, just to name a few. But it has only been within the last few years that practicing mindfulness in schools has become more common across the U.S.
During the 2018-19 school year, one school in the Kenmore-Town of Tonawanda School District has made the practice a cornerstone of its efforts to improve social-emotional health and well-being among students. Leading this effort is Michele Melligan, Franklin Elementary School counselor, who presented to the Board of Education in November alongside Principal Pat Kosis and Franklin Elementary students on the school's social-emotional initiatives including "Mindful Minutes."
"Classrooms that participate in Mindful Minutes take one to two minutes out of their day to take deep breaths and refocus," said Yasmin Ramsey, a fourth-grade student at Franklin Elementary. "This helps with clearing our minds and being thankful for the things in our day."
At Franklin Elementary, the implementation of Mindful Minutes in participating classrooms in the fall coincided with the implementation of the new New York State mental health curriculum. It also coincides with the implementation of the Ken-Ton School District's new 2018-2023 Strategic Plan entitled "Ken-Ton Forward," which includes improving social-emotional wellness as one of its three core goals. Melligan's proposal for "Mindful Minutes" was chosen as a finalist in the Ken-Ton School District Innovation Contest, which sought proposals for new programs or initiatives for possible implementation.
"It is very simple – taking two minutes each day built into the schedule to take a moment and just breathe," Melligan said in her proposal. "That is all – just teaching students and staff how to breathe. It is simple, it doesn't cost anything, and will significantly reduce stress in both students and staff. This will undoubtedly result in an increase in productivity and a change of culture across our schools."
Even before she had known her proposal was selected as a finalist in the contest, Melligan had already begun implementing her idea at Franklin Elementary School. And the results have been exactly what she had anticipated. A student survey at Franklin Elementary conducted before and after the implementation of Mindful Minutes showed a significant increase in the percentage of students who felt confident in their understanding of how to calm themselves.
"I have noticed an increase in students' ability to self-calm and monitor themselves," said third-grade teacher Robyn Brydalski. "I had a parent contact me to thank me for the 'Mindful Minute' because, when her daughter was having a difficult moment at home, she told Mom, 'I have to take my Mindful Minute and take some deep breaths.' So I feel like it's really impacting the well-being of our students here at Franklin."
Mindfulness is the ability to be in the present moment – a moment-by-moment awareness of one's thoughts, emotions, sensations, and surrounding environment.
Research consistently shows that practicing mindfulness improves health and well-being among young people. Mindfulness has a positive impact on sleep patterns, self-esteem, calmness and relaxation, behavior, self-regulation, positive relationships, and empathy towards others.
Everyone is capable of practicing mindfulness, and even a minute or two can have significant benefits. In classrooms at Franklin Elementary, participating teachers would make it part of their daily routine. They would take a break from the busy activity of the day and lead their students in a "Mindful Minute." Before long, it was something the students were able to do on their own.
"I have noticed that the children are able to make quick transitions much easier with the Mindful Minutes, and we do this often throughout the day," said second-grade teacher Diane Meachum. "They learn to just stop and refocus and then move on which is an important skill for children to manage in the classroom."
Connect With Ken-Ton Schools