Kenmore West High School
Providing our students with the supports, tools, and diverse opportunities needed to meet the challenges of an ever-changing world
Return to Headlines
Kenmore Boys Rugby Finishes 2nd in NYS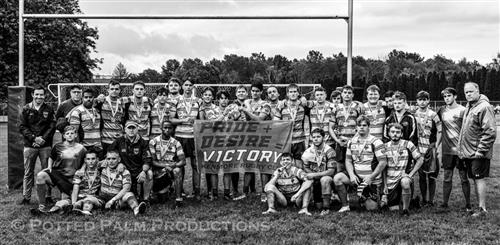 The Kenmore Boys Rugby Team with players from Kenmore East High School and Kenmore West High School made it all the way to the New York State Championship for the fourth time in team history.
The team's road to the championships began with a 40-0 victory over Orchard Park on Sunday, May 19. With the win, Kenmore Rugby clinched the Section VI title for the seventh year in a row, securing a spot in the playoffs.
The team defeated Section V's Fairport 43-19 the following Saturday, May 25 in the RugbyNY Upstate Division 1 playoff match at Crosby Field. With the win, Kenmore claimed the Upstate No. 1 seed and the No. 3 overall seed for the Rugby NY Championships at Binghamton University the following weekend. It would be the seventh time the team made it to the state semifinals.
The team faced the New York City No. 2 seed, the Play Rugby USA Academy, a rugby program in New York City, in the semifinal match on Saturday, June 1. The team fell to a 5-21 deficit but senior Joe Stewart led an exciting comeback with three tries and Kenmore ultimately prevailed 26-24, securing a place in the championship game the following day.
On Sunday, June 2, the team faced perennial state champion and returning national champion Xavier High School, one of the leading rugby programs in the country, losing the match with a final score of 10-45.
This was the team's fourth appearance in the NYS championships, and the team was the only club team competing against established varsity programs from across the state in the finals.
Click here to read about the team's recent trip to Wales and to learn more about the Kenmore Boys Rugby program.
Connect With Ken-Ton Schools