Kenmore West High School
Providing our students with the supports, tools, and diverse opportunities needed to meet the challenges of an ever-changing world
Return to Headlines
New Initiative Introduces Ken-West IB Students to Tai Chi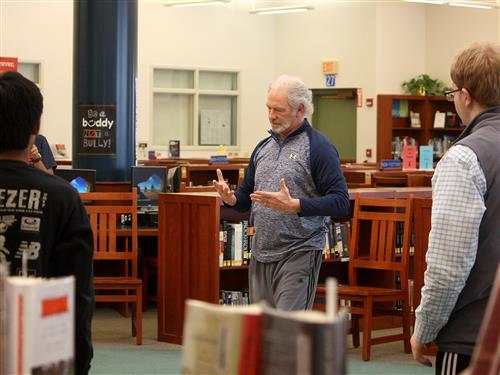 Kenmore East High School physical education teacher Jay Robbins leads a session on Tai Chi and Qigong for Kenmore West IB students.
The International Baccalaureate (IB) Program, which is offered at Kenmore East and Kenmore West High Schools, is one of the most challenging high school programs in the world.
Double-period classes, college-level coursework, extensive research projects, and long hours studying for internationally assessed exams are some of the realities for students in the IB program.
A new initiative at Kenmore West High School is giving its IB students a much-needed break. The new initiative is called the "I'm Breathing" program. Organized by Kenmore West IB coordinator Laura Howse, it aims to give IB students a chance to take time off from their studies, try a new activity, and learn about stress relief.
On Nov. 28, Kenmore West IB students gathered in the Kenmore West Library after school for a session on Tai Chi and Qigong led by Jay Robbins, physical education teacher at Kenmore East High School. Tai Chi and Qigong (pronounced "chee-gong") are closely related exercise practices that, like yoga, combine breathing, movement, and focus.
There are many benefits to practicing Tai Chi and Qigong, including stress release and overall well-being. The session provided students an understanding of these disciplines, and taught them simple exercises they can practice on their own.
The new "I'm Breathing" program benefits from expertise within the district. In November, it was Robbins, a Kenmore East physical education teacher who is also a certified instructor in both Tai Chi and Qigong. At the previous session in the spring, Howse brought in Courtney Boland, a teacher at Franklin Middle School who is also a certified yoga instructor, to lead an introduction to yoga class for the IB students.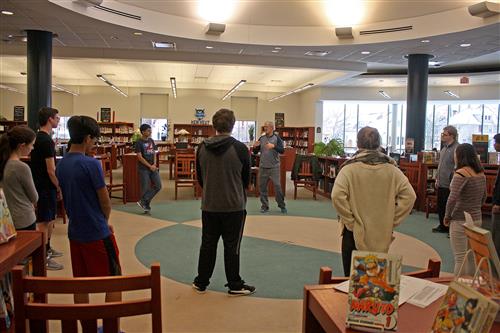 Connect With Ken-Ton Schools