Holmes Elementary
Providing our students with the supports, tools, and diverse opportunities needed to meet the challenges of an ever-changing world
Return to Headlines
Ken-Ton Gives Back to Local Community During Holiday Season
It's the season of giving and many of our Ken-Ton students, staff, and community are doing their part in making sure this holiday season is a joyous one for all. Check out all of the ways our schools are showing their appreciation and love for others.
Kenmore East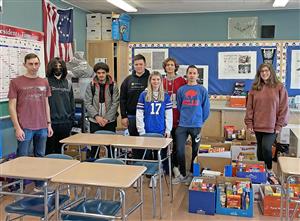 For 19 years, the Kenmore East Student Congress has been collecting cans and food items for families in need through their annual "Gobblin' Up Hunger" food. The National Honor Society and Seal of Civic Readiness students spent several days packing over 150 boxes of food that were delivered to families in need. Students were also able to create a backstock of food that will be used for the Kenmore East pantry for the coming year.
Speaking of the pantry, faculty and staff have made sure the shelves are stocked and restocked with food, hygiene products, and basic necessities. Students can help themselves to items or have a bag made up for them to take home.
The Kenmore East National Honor Society and staff also collected gifts to donate to Child and Family Services for families in need. Thanks to the generosity of those in the building, they were able to donate an entire car full of gifts and needed items.
Kenmore West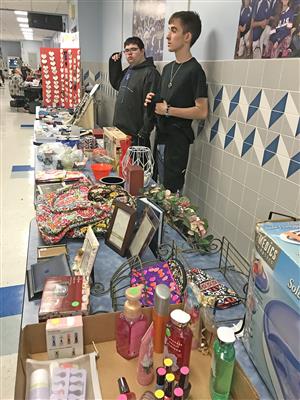 The Kenmore West Community Club's annual holiday party was Saturday, December 3rd for more than 100 students and their families from all five of our Ken-Ton elementary schools. Those who attended enjoyed a pizza lunch, snacks, arts & crafts, a mitten tree, and a visit from Santa.
For over 30 years, the Kenmore West Holiday Fund has provided more than 400 kids a shopping experience they otherwise may not have had. This year they're doing things differently and will be providing gift cards to families in need.
Teachers are also getting into the holiday spirit and have donated hundreds of items to the Holiday Shop that'll be held later this month. Items can be purchased by students using their West Best tickets, which are given for good behavior.
Several other clubs and organizations are also holding giving back. These include collecting gently used clothing to fill the school's Free Style Thrift Shop where students shop for free, donating yearbooks and prom tickets bought by staff members to give to those who aren't able to afford them, collecting dress down money to make monthly contributions to various charities, and collecting books to be donated to a local book drive run by the Buffalo Poet Laureate.
Franklin Middle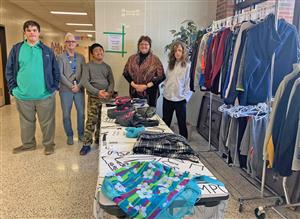 Franklin Middle is holding two different drives throughout the month of December for toiletries and food. The school will be collecting these items for families in need. In November, students made cards for Veterans and in December, they'll be making cards for the John R. Oishei Children's Hospital to bring plenty of smiles to those who may have to spend the holiday away from home.
Hoover Middle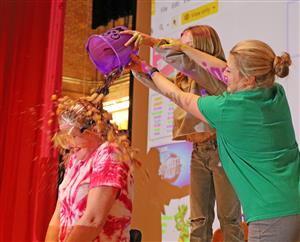 Throughout the month of November, Hoover Middle students and staff held a food drive for charities across Western New York and collected a total of 820 items for donation. They then created a fun event called "Thrill of the Spill" where students were able to use their Dragon Scales tickets to win a chance to dump a bucket of "mystery" stuff on a staff member of their choice. The buckets contained things like spaghetti and sauce, Thanksgiving leftovers, fruit cocktail, and milk and cereal. (All of the food used in the dumping was expired food that couldn't be donated.)
The school is also taking part in "Warm Hugs for the Homeless" in conjunction with the Salvation Army. It's a winter clothing drive that was originally started in 2018 by student Nyla Moore, who is now a 7th grader at Hoover Middle.
Edison Elementary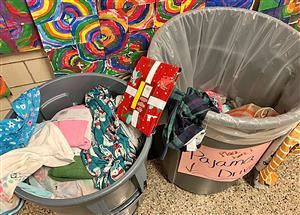 Over the course of December, Edison Elementary is hosting two different drives. The first is a Hat and Mitten Tree in the main hall that is collecting items to provide warmth to members of their community. They're currently collecting children's hats, mittens, gloves, scarves, and warm socks. Edison is also doing their annual pajama drive where they're collecting new or like-new sleepwear items through December 16th that will then be donated to the Ken-Ton Closet. All students who bring a pair of pajamas are given a raffle ticket, and a prize drawing will be held at the conclusion of the collection.
Franklin Elementary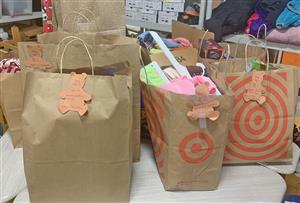 Franklin Elementary is busy helping many of their own students and families have a joyous holiday season. Under the direction of Franklin math teacher Lisa Wdowka, several "teddy bear wish lists'' are hung on the main office wall at Franklin. Students, staff, and their families can choose a bear, purchase items from the list, and bring those gifts back to school for donation. They're also collecting food items and holding a grade level "penny war" to purchase some additional items like diapers, baby formula, and other toiletry necessities. All of the donations will go right back to members of their school community who need a little help purchasing items and gifts for their families.
Holmes Elementary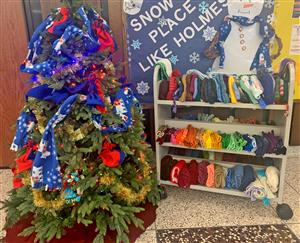 Holmes Elementary has a Giving Tree set up inside their school to collect items for the Ken-Ton Closet. They also have a special tree in their main foyer that's filled with hats & gloves that an anonymous staff member hand-knit for students to use during the cold winter months. The Holmes Helper Committee is also hard at work to provide students in need with gifts for the holidays. A total of 115 students will be assisted this holiday season thanks to several donors.
Hoover Elementary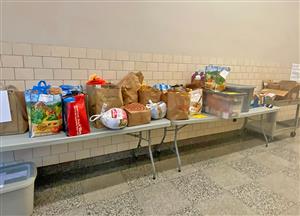 One of the biggest giving efforts at Hoover Elementary is the "Hoover Helping Hands" campaign, spearheaded by social worker Susan Sperrazza. This initiative connects the school with families in the community to provide them with gifts, food donations, and other necessities. Some of their projects this year included a Thanksgiving dinner, gathering school supplies, and holiday help. The school is also holding a "Pennies for the People" penny drive thanks to the student organization Hoover Hoots.
Lindbergh Elementary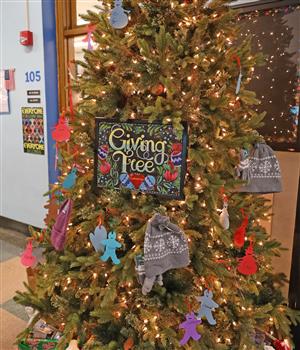 Just like Holmes Elementary, Lindbergh has a Giving Tree outside the main office that collects items for the Ken-Ton Closet. Many of the items donated are clothing, but donations also include things like toothpaste, shampoo, deodorant, and other bath essentials. The school also held a Thanksgiving food drive in November.
Connect With Ken-Ton Schools