Holmes Elementary
Providing our students with the supports, tools, and diverse opportunities needed to meet the challenges of an ever-changing world
Return to Headlines
Ken-Ton Superintendent Wins WNYESC Award for Excellence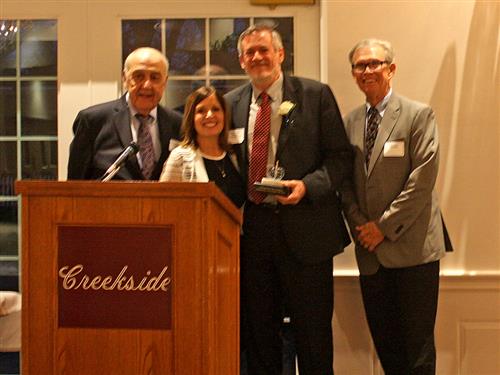 On May 1, Ken-Ton School District Superintendent Stephen Bovino was the recipient of the Western New York Educational Service Council (WNYESC) Award for Excellence in the Superintendent category.
Bovino was praised for demonstrating outstanding leadership after taking on the position of superintendent during the 2016-17 school year. It was a difficult time for the district, which had undergone significant changes in the preceding years including building closures, grade level configurations, and redistricting. Bovino was credited with significantly increasing morale and trust among staff and fostering a collaborative culture at all levels. He was also cited as a supportive, compassionate, capable leader who continues to connect with students.
"He inspires by being a visible, approachable and personally invested member of our community," his nomination stated. "He has shown that it is possible to be simultaneously compassionate while expecting high standards."
Superintendents may only be nominated for this award by their respective Board of Education. Bovino was chosen by a WNYESC selection committee which reviewed nominations from school districts throughout the greater Western New York region.
WNYESC is a service organization that provides support for the educational community in Western New York, such as professional development, mentoring opportunities, and research. Each year, WNYESC honors exceptional teachers, support staff, administrators and Board of Education members at its annual Awards for Excellence Banquet, which took place May 1.
Bovino began his career in education as a social studies teacher in the Williamsville Central School District. He served as an Assistant Principal at Williamsville South High School and then as Principal of John F. Kennedy High School in the Cheektowaga-Sloan Central School District. In 2007, Bovino was appointed Assistant Superintendent for Human Resources of the Kenmore-Town of Tonawanda Union Free School District.
After nine and a half years overseeing the Human Resources Department in Ken-Ton Schools, Bovino retired in September 2016. Only four months later, the Ken-Ton School District Board of Education appointed Bovino to serve as Interim Superintendent, and he was appointed to the permanent position of superintendent in April 2016.
Connect With Ken-Ton Schools